Schools Reopen, but Who Will Return?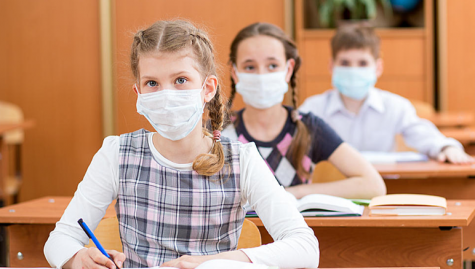 President Biden plans to reopen schools next month. With masks, vaccines, and social distancing, it is a possibility. It's even possible to be back all together by the 2021-2022 school year. Some students would like to go back, and some think it will be safe. A lot of students agree that they are tired of hybrid school, and learning from behind a screen.
Students at Emerson Junior Senior High School, EJSHS, were interviewed about how they were affected by the sudden lockdown, and their thoughts of school reopening after a year of virtual learning. "Online schooling has affected me in a lot of ways. It has affected my mental health and the way I learn." Alexa Guglielmi, an Emerson Junior Senior High School freshman said. Many other kids will agree. Online school affected everyone, positively and negatively. Some people may find that they think it's easier to learn at home, while others enjoy going in person and sitting in a classroom. "Personally, I like at home learning more." Ava Sassi, a freshman, stated. "I find it easier to learn from my house more than I do when I'm in school."
While some students are content to remain learning from home, there are many who are eager to return."It is a little bit more difficult for me to learn in online schooling. And not being able to see people has an impact on children's mental health. It was very hard at first, but now that I'm used to it, it's getting better." She stated.
The Education Department and the Department of Health and Human services will help teachers and students adjust to the return of many individuals in school together. An executive order passed by Biden will direct this. The Education Department and Department of Health and Human Services will help ensure that everyone remains safe and healthy with the return of students in school. Biden suggests schools should hire more personnel like nurses and counselors to help students with the adjustment.
Many students will be happy to hear this. Online school has affected a lot of people because it's more difficult to learn and they find themselves missing school and all the fun activities and friends that came with it. "I miss seeing people." Bella Hassett spoke. Due to social distancing, students can't see as many people as they did previous school years, so a lot of people miss their friends.
An outbreak of COVID is something some students may fear when returning to many kids all together. Some students feel confident everyone will remain safe when in person learning begins."No, because the increase in vaccines will ensure more safety than last time." Eleeza Kapadia, a freshman at Emerson Junior Senior High School, said, when asked if she was nervous about another possible COVID outbreak. Eleeza has also said she will be returning to in person learning when schools finally fully reopen. "I am nervous to return to school. I became accustomed to learning virtually, and haven't been to a fully reopened school in over a year," Eleeza continued.
Biden's plans will hopefully guide students to a safe transition back to school, and help everyone enjoy the activities they miss.
About the Writer
Skyler Choinski, Staff Writer
Skyler Choinski is a freshman at Emerson Junior-Senior High School. She is enjoying her first year in high school, and is excited to write for the school...