The Weeknd Boycotts the Grammys
Every year there seems to be conflict with the Grammys. This year's biggest one is with the Canadian star, The Weeknd. He accuses the award ceremony of not being fair because he was not nominated for any category despite having music on the top of the chats and selling millions of records. 
The Weeknd, whose real name is Abel Tesfaye, is accusing the Grammys of not being fair since they refuse to acknowledge his success. According to Billboard, one of The Weeknd's top songs "Blinding Lights" is the first song to spend a year in Billboard Hot 100's top 10. In February 2021, he performed at the Pepsi Super Bowl LV Halftime Show. Fans expected him to receive a nomination for Album of the Year and Song of the Year. 
The Weeknd and the Grammys are currently the talk on Twitter. He and his fans have been pointing out how the Grammys system is not fair ever since fans knew he failed to receive a nomination.  
"I do feel like the Grammys are unfair because some people get Grammys when they did absolutely nothing, while others put in all the effort and get nothing. It is a very unfair system and should be fixed so people get what they actually deserve" said Emerson freshman Angelina Moschella.
The Weeknd explained to The New York Times in an interview that in the future he will not let his label submit any of his music to any award ceremonies.
"The Grammys remain corrupt. You owe me, my fans and the industry transparency…" tweeted The Weeknd. Many upset fans responding to the tweet were upset and confused on how someone who is still on the top charts is not getting the recognition he deserves.
Billboard has stated that The Weeknd's half time Super Bowl performance was the reason he did not get any nominations. And that the Grammys gave him an ultimatum to perform at the Super Bowl or the Grammys.
"They should have still looked at how popular of a singer he is and saw what he did was good. His songs have been on and off the charts for years now, and people still do not realize that he needs the recognition he is not receiving" said Moschella.
The controversy of The Weeknd and the Grammy may not be resolved but this conflict will not stop him from growing as an artist.
About the Writer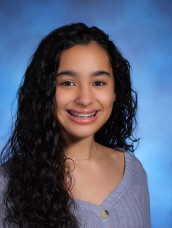 Sherley Arias, Staff Writer
Sherley Arias is a freshman at Emerson Junior-Senior High School. This is her first year writing for the paper. She likes to write opinion articles. She's...