Emerson Boy's Soccer Making A Statement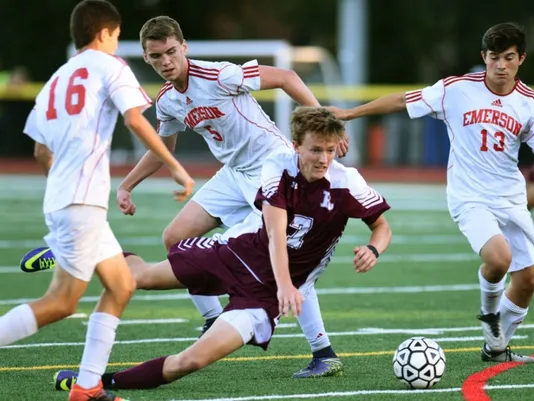 Hang on for a minute...we're trying to find some more stories you might like.
Emerson High School's boys soccer team makes a statement within the NJIC conference by starting the 2019 season off 6-0-1. The boy's soccer team won over Midland Park 5-1 following wins over Creskill, Bagota, Saddle River Day, Park Ridge, and Palisades Park. The team also has a single tie against last year's state finalists' Waldwick. 
The teams turn around is seen through statistics from last year compared to the statistics this year. Last year the team's total goals scored was 30 with 41 goals against. This year the teams total goals scored is 40 with only 5 goals against. 
In an interview with Danny Gordon, Emerson's starting senior striker and captain, he answered questions about the team this year. 
How do you feel about the teams results so far this year?
"I've been very proud of the team, it's been a great turn around from the last two seasons."
What do you feel is making the team successful this year?
"This year we have a better dynamic in the coaching staff, and players also have 2 years of experience of playing together."
The team overcame an immense amount of change with two coaching changes in 3 years. Even with the change the team seemed very determined and have produced evident results of success. 
In an interview with Coach Rich Companonge, he answers about the team so far…
Why do you feel the team is as successful as they are this year?
"It's the right mixture of talent, chemistry and motivation. We all went through major programs struggles the last two years starting at the top including myself being the JV coach and we underperformed. This year was a fresh start with players and a coach that wanted to work hard for each other and play the way they were built to play. We took the harness of the beast and let the team run wild on the league so far."
The team has had many head turning results so far this year and could possibly win the league and the state tournament if they continue to produce this quality of play.

About the Contributors
Eric Clouse, Writer
Eric Clouse is a senior journalist at Emerson Jr. Sr. High School who likes to write about school news and sports. He is very excited to create this newspaper...