Senior Prom Sentiments from a Chaperone's POV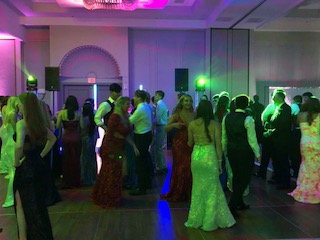 As you can imagine, the seniors are probably experiencing a lot of mixed emotions right now.  They're leaving the comfort and familiarity of Cavo Country to explore other realms and possibilities.  Of course there will be some tears and trepidation, but there's an underlying current of energy and excitement that surfaced and surged on Friday night at the Senior Prom.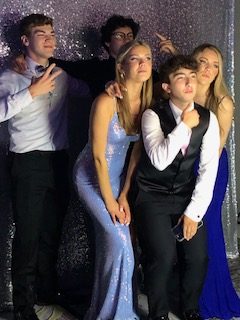 Advisors Jennifer Norato and Sharon McClure truly outdid themselves with this fabulous night.  The Park Ridge Marriott was the perfect venue with its cozy cocktail hour area, spacious ballroom, and attentive waitstaff.
Pulse Entertainment had everyone on their feet (although some of us were eagerly dancing earlier than others), and a photo station helped to capture one memorable moment after another.
Servers greeted everyone with smiles and hors d'oeuvres, while bartenders provided a steady stream of mocktails and soda.  A buffet-style dinner boasted a selection of pasta, beef, chicken, vegetables, salad, dinner rolls, and more!  The make-your-own-sundae bar was a hit, especially with the addition of cookies, brownies, and hot fudge sauce. Sweeter still was the sight of everyone enjoying themselves.
Dressed in elegant gowns and sophisticated tuxes, the seniors strutted their stuff and reveled in the festivities. While the formal wear has become increasingly glamorous over the years, it was sweet to see that corsages are still a part of the 21st Century prom experience.  Titles like "Prom King" and "Prom Queen" have gone by the wayside, however, as well as a unifying theme or a theme song.  It doesn't really matter, though – not when the students are the unifying element in this equation.
It was amazing to see everyone absolutely aglow with happiness.  Watching them dance, and hearing them sing along to the music brought me back to my own prom memories, and it gave me some of my own mixed emotions.  Was it really so long ago that I danced at my prom?  Graduated high school?  College?  Wow.  Sitting  with the other chaperones, I looked out on the dance floor and thought, "They have so much ahead of them, and their stories are just waiting to be written!"
I found myself caught up in that current and, with a corsage on my wrist, and my shoes kicked off beneath the table, I joined the party and said my silent goodbyes to the seniors as I danced to the beat.
Congratulations to The Class of 2023!