Freshman Field Trip:The Statue of Liberty
On May 25, 2023, we freshmen went on our field trip to the Statue of Liberty and Ellis Island. We all got split into groups with different advisors and chaperones (for guidance and attendance). Class Advisors Javier Garcia and Karla Pena led the way, as we headed out on our adventure.  This was a great sightseeing experience, and a perfect way to end the month of May before Memorial Day Weekend. 
One highlight from this trip was being on the ferry. We were able to walk around the boat and explore – from sightseeing to sitting with friends. It was very fun to see everyone enjoying themselves and spending time with each other. Standing on the top of the boat was the best because you could see everything clearly and very close.
Climbing up the Statue of Liberty was a truly extraordinary experience.  After climbing up many many flights of stairs, we finally reached the top and walked around to explore. We were allowed to take as many pictures and videos as we pleased.  It was great to make memories and preserve them on our phones. 
After we visited the Statue of Liberty, we had the opportunity to explore the island. We even stopped to get some fun souvenirs such as sweatshirts, hoodies, shirts, hats, and plushies. It was a truly enjoyable experience, and one that we won't soon forget. We visited the island museum which held the original torch held by Lady Liberty 147 years ago.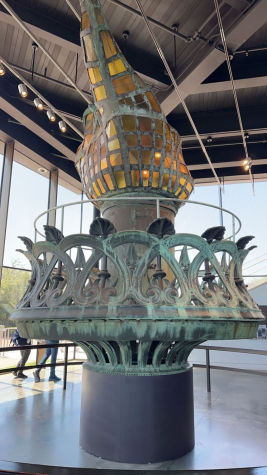 To top it off, we even had lunch on the island, making the experience even more memorable. All in all, visiting the Statue of Liberty was an amazing and unforgettable experience.
After we had the pleasure of visiting the Statue of Liberty, we got to take the ferry to Ellis Island. On the ferry, we were blessed with stunning views of the harbor and the surrounding area.
When we stopped at Ellis Island, we were allowed to walk around and explore until it was time to meet back altogether. We were only there for a short amount of time, but it was still worth it.  A few of us were able to take a quick tour of the museum there, but it wasn't really enough time to appreciate all of the rich history inside those walls.
The ferry filled up quickly, and we ninth graders had to wait for another ferry to come pushing our departure back another 35 minutes. There were all different types of food and souvenirs to take home and remember. We took many pictures and walked to many different parts of the island. 
There was never a dull moment on the trip, even the bus rides were fun. Fortunately, we were able to choose our seats on the luxury coach bus that had a bathroom. We made sure to keep everyone entertained and laughing both ways.  We even had the opportunity to make friends with students from other schools!
So was it a success?  Absolutely.  The food was incredible and the souvenirs were adorable. The amazing views and information learned made the trip very enjoyable. All in all, this was a fun experience for us 9th graders where we made memories that will last a lifetime, and be a crucial part of our high school experiences.