Emerson VS. Park Ridge: The Semifinal Softball Game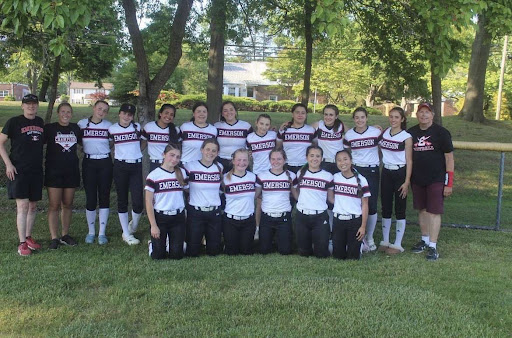 Park Ridge and Emerson played in the Semifinal Softball Game on a hot day, but we kept our cool.
Park Ridge had previously been defeated twice by Emerson in games during the regular season, but playing them in the playoffs meant that if we lost, our season was over.
Emerson got things going right away in the first few innings with a couple of runs while Park Ridge was unable to score any. Several Emerson players really stood out, including Sofia Centeno, who scored a few runs with her double. Natalie Graham struck out a lot of batters, while the defense made some standout plays. 
Emerson really leverages the small plays and hits to their advantage in these games. While there were a few errors in our defense, it was generally strong. Despite these mistakes, we quickly recovered and did not allow them affect us.
Gabby Micucci, Alyssa Gabriele, and Leigha Messick all made great catches in the outfield, including the game's final one. 
It was absolutely hot, but we didn't let that bother us. We got another run thanks to a couple pinch-runners like Kiley Grompone, who made it home. Alyssa Gabriele produced a tremendous double play on the defensive end, catching the ball in the outfield, throwing it to first base, getting the runner out, and getting us out of that inning.
We definitely had a lot of assistance from the bench as well; everyone was cheering each other on from the fence at all times.
We asked Natalie Graham, "What do you think we did really well in order to win the game?" and she said, "We took advantage of putting runs up early and their errors as well as we making sure to make the routine plays and play with one pitch mentality.
Then we asked Kelty Manning a different question – "What do you think we could do better to win our next game?". She said, "I think that we could bring more energy, stay consistent in the field and up at bat, and have a one-pitch mentality!"
With focus, energy, and the support of our families, friends, and fans, we're ready for further success.