Cadaver Lab: An Opportunity of a Lifetime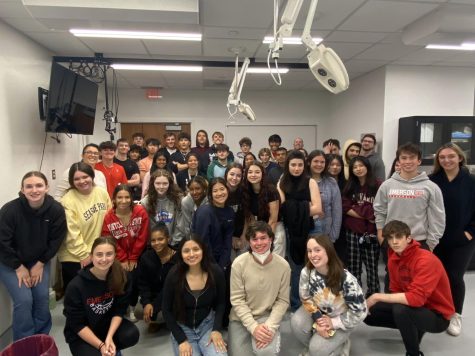 April 27th was one of my most exciting days of my four years here at Emerson Jr./Sr. High School.  I took a class trip with my Anatomy class and other Anatomy classes, and we went to Rutgers University in New Brunswick, New Jersey – specifically to the Busch Lab Center right next door in Piscataway. This field trip involved all the students being able to look and touch two real human cadavers. 
When first hearing about this trip last year from my Biology teacher, Ms. Corso, I knew I had to be in this class my senior year. I was looking forward to this trip all year, constantly asking Ms. Corso if the professor had reached out to her about doing the trip again this year. I was ecstatic when I found out that we were able to take this trip; I literally jumped up and down.
One of my good friends, Martin, was also super excited to go on this trip so I asked him how he liked it after it was over. 
"The trip was an experience of a lifetime. I really enjoyed going, and it was really cool being able to see dead bodies," said Martin.
Walking into the lab, I was nervous – to be honest. Seeing a real cadaver and the inside of a human body freaks many people out. I was more intrigued than I was freaked out, but definitely was still a little freaked. We had to wear goggles and gloves when handling the cadaver. There were about 30 students standing all around this table waiting for the professor to unzip the bag. 
He started to unzip the bag, and the whiff I got was very intense. You think it would smell like how you imagine a dead body to smell like, but all I could smell were the embalming chemicals they used to preserve the body. The smell did give me a headache, but nothing I couldn't handle. When he fully uncovered the body at first, I was too nervous to touch it. Once I saw others get more comfortable with it, I relaxed and finally started to lift up the cadaver's back muscles. 
There were two bodies, one was a woman and one was a man. The woman was face down and the man was in an anatomical position. After looking at the woman's cadaver I went into the next room not really knowing what I was expecting to see because this cadaver was cut open fully. We were able to bend his knee and see the ACL, which I thought was so cool. We were even able to hold his organs in our hands. 
Imagine you're a 17 year old student, and you get the opportunity to hold a real human brain. I got my hands on anything I could touch at this point –  I was in awe. I can't even explain how I felt. I was filled with so much excitement.
Personally, my favorite part was being able to hold the organs. We got to hold the brain, lungs, and heart. The abdominal organs were still intact with the body, so we couldn't hold those, but we got to see everything and anything we wanted. 
Obtaining this expertise has to be the best thing ever. I'm so glad that Ms. Corso was able to give us all the opportunities of a lifetime. I'd always had an interest in science and wanted to pursue that as a career, and this trip has really helped me figure out what I want to do with the rest of my life!