Freshman Class Field Trip: Ellis Island and the Statue of Liberty
The freshman class is having an upcoming field trip to Ellis Island and the Statue of Liberty on May 25th. At Ellis Island, class members can explore the museum, and learn about the history of immigration to the United States. The museum features interactive exhibits, photographs, and artifacts from the island's history.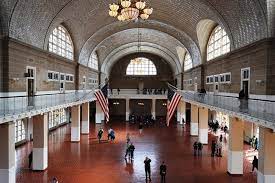 Along with Class Co-advisors Mr. Javier Garcia and Ms. Karla Pena, they will then take the ferry to the Statue of Liberty, and explore the grounds of the statue.  To see Lady Liberty from the water is one thing, but to actually walk around her pedestal and look up at her over 300 feet tall form is definitely another.  
Students have a wide range of views on the trip to Ellis Island and the Statue of Liberty. Some may find the experience to be educational and exciting, while others may find it boring.
For those who enjoy history, the visit to Ellis Island and the Statue of Liberty is a chance to gain insight into the United States' past (as well as their families'), and to appreciate the incredible journey many immigrants made to come to America.
For others, not so much.  They may feel the trip will be a little dull, at least compared to the Washington, D.C. trip that never was.
Freshman Jake Jodzio expressed his disappointment that the school was unable to go on the Washington, D.C. trip, but he was also grateful that they were finally able to go on a much-needed excursion anywhere. Jake said, "It's nice that we are going on this trip because it is long overdue."
Think about it.  In sixth grade (2019-2020), the peak of Covid had just started, and students were unable to attend any class events or field trips. They were all looking forward to their boat dinner on the Hudson River, but sadly it did not end up happening because they were quarantined.
Things were not much better in seventh grade (2020-2021), because they did not have a field trip then either.  Covid cases were still high and increasing. From a safety standpoint, this made it impossible for a trip to happen.
During the 2021-2022 school year, the eighth grade was unable to attend their class field trip to Washington, DC. – something that students eagerly anticipate. However, kids from other schools, including Westwood, Northern Valley, and Demarest, were able to attend their field trips. The eighth graders from Westwood were able to go to Six Flags.  EHS's Class of 2026 was not happy.
After not having a field trip for over two years, the freshmen are definitely ready to go out and about.  Learning about and exploring Ellis Island, and then getting up close and personal with the Statue of Liberty, is certainly going to be a memorable bonding experience for the class as a whole.