Emerson Softball: Starting Again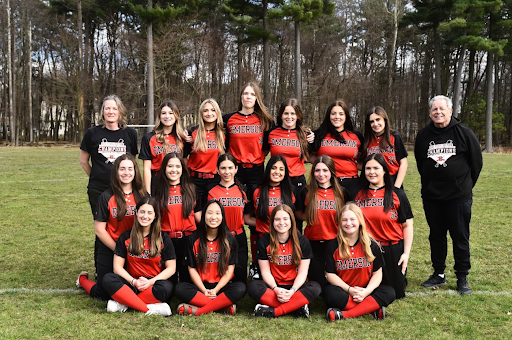 As the spring season begins, EHS's Softball Team has started to prepare for their new season. We have had a few winter training days every Sunday this year to start out in preparation for the season. These days started around January and ended a few weeks before the actual season began.
At separate periods, two groups would practice hitting and fielding. But, because it was an optional practice, the entire team did not show up. This season's early winter training was attended by about 20 individuals. So that we could get a good sense of the other teams this year, the team would occasionally travel all the way to Allendale to practice alongside communities like Westwood and Park Ridge. 
To begin with, the JV and Varsity teams from Emerson went to Union City for their first scrimmage of the season. Varsity and JV both won their games. The players definitely enjoyed their first game together against a legitimate team. Both the infield and our starting pitcher Natalie Graham played outstandingly. Jillian Kleinman, Sophie Nisonoff, Kelty Manning, Sarah Mokrzecki, and Eleeza Kapadia all had fantastic performances in the infield. There were hardly any balls hit to the outfielders.
As things are still new and we are getting used to playing together, numerous people from JV and Varsity have been swapping games. Therefore some JV players have moved up to the Varsity team, and some Varsity players have gone down to the JV game.
Along with the great defense we had in that game, we also had some amazing hits to bring home some runners to win it.
I asked one of the players, Natalie Graham, "What are you looking forward to this season?" She said, "I am looking forward to competing for another league title and making a far run in the county and state tournament. We have a lot of young talent on our team this year, and can't wait to play one last season with my best friends." 
Our second game was about to start. Our first home game against Rutherford and our second pre-season scrimmage. Again, many people are still switching back and forth because this was another JV and Varsity game that was being played simultaneously. Everyone has the chance to put up their best effort and play with others. Varsity defeated them in this game; we performed well and communicated well with one another, with only a few small mistakes that we will work on to improve as a team. 
Now let's talk about our most recent contest, against Ramsey on Emerson's home field. While still switching, both teams, JV and Varsity, suffered defeats. The greatest issue is that as a team, we didn't get enough hits while playing excellent defense. We were just off. Yet, we couldn't hit much as a team. A few players made contact, but the thing that unites us as a team the most about this opponent is that we can all agree that they are really talented. They play excellent defense, everyone hits, and they have a quick pitcher.
We performed great, but we should have communicated better. Still, this opportunity will allow us to compete against stronger teams with excellent pitching.
Another question was directed to Kelty Manning. "What's your biggest goal for this season." Kelty said, " I would say my biggest goal is to build a strong team dynamic in order to help us be successful. I would also say a goal of mine is to win the league!"
Here's to a great season!  We've got this!