EHS's Class of 2023's Valedictorian and Salutatorian Named and Celebrated
It's not easy keeping a secret, especially when it's one that you know will make people happy.  It's harder still to keep quiet those moments before you're about to spring the good news on somebody or – in this case – two terrific students.
Trust me, I know.  I was one of a few dozen teachers huddled in the media center yesterday afternoon, trying not to be too loud as our unsuspecting victims, I mean, celebrities approached the doors.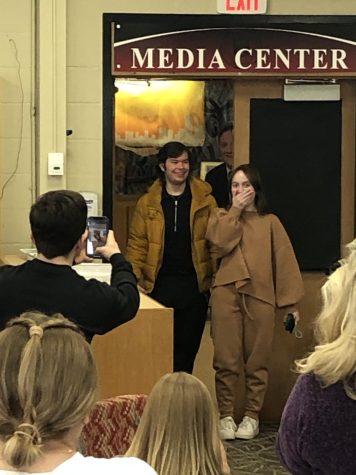 Seniors Sarah Walsh and Billy Bollbach have been named valedictorian and salutatorian, respectively.
If you missed the two waltzing on stage in EHS's recent production of Rodgers and Hammerstein's Cinderella, then you missed a wonderful display of joy and grace.  If you'd been with me yesterday, in the media center, that same joy and grace were present.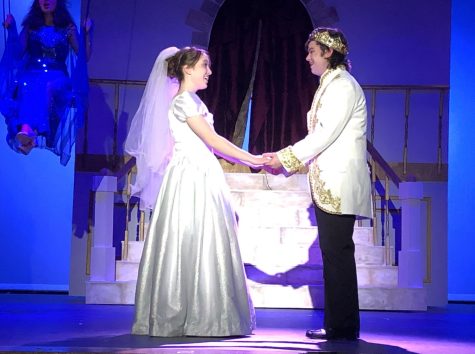 So how do you convince students to return to school after a half day without arousing suspicion?  Apparently, you tell them they're going to be part of a panel discussion focusing on course variety and academic rigor.  Yup.  They bought it!
Escorted by Mr. Hutchinson, Mrs. Riedel, and Mrs. Biondo, they approached the media center and then – TA DA!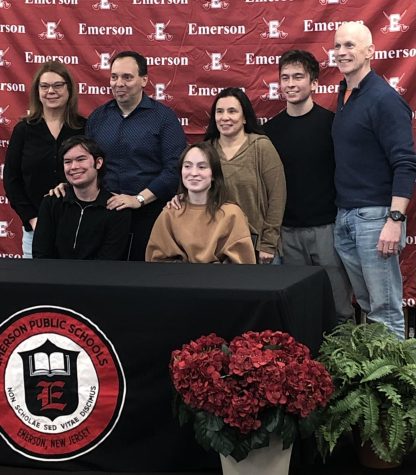 Flanked by their families, Sarah Walsh and Billy Bollbach were presented with a brief, but heartfelt, speech from Mr. Hutchinson, in which he lauded their accomplishments, and thanked them for their consistently excellent efforts.  Cheers and applause followed, along with photo ops!
There were tears in eyes, smiles on faces … and those were the teachers' reactions!
Sarah Walsh expressed her gratitude by saying, "I'm so happy I got to celebrate with my family and with the teachers I've been with over the last six years!"
Billy Bollbach added, "It was very heartwarming to walk in to a room full of support. Hearing applause from all the people who have taught, mentored, and befriended us was something I'll never forget. Our families were also there, and their pride beamed. They knew for about a week, but dutifully kept the secret!"
Congratulations to Sarah Walsh and Billy Bollbach!  We all wish you the best!  That's no secret.