Emerson Wrestling Wins League Championship for 14th Year in a Row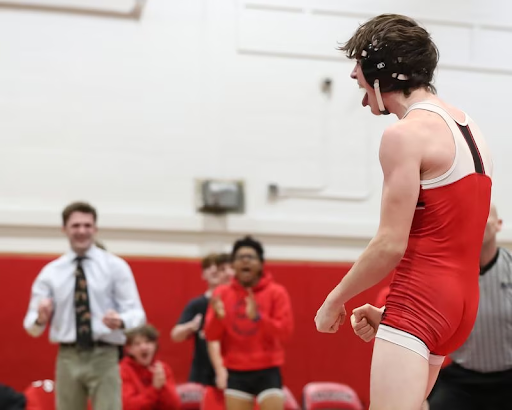 The EPR Wrestling Team has always been a powerhouse when it comes to their league. For the 14th year in a row they were able to bring home the gold. With big wins coming from Martin Coombes, Louden Mazzeo, Paul Coombes, Jake Falotico, and Ryan Messick, they were able to secure victory with a 52-24 win over Bogota.
The EPR wrestling team is 5-0 in their league once again continuing to dominate the league.  Bogota was 4-1 in the league putting them in second place. This just comes to show how dominant the EPR Wrestling Team is beating the 2nd place team by 28 points in a League Championship.
This League Championship was also the Senior Night for the EPR wrestling team. With seniors from Emerson, Martin Coombes, Louden Mazzeo, Jake Falotico, Chris Kersul and Rey Vazquez, followed by Park Ridge senior Jake Ferrington. There were 10 pins total in the match against Bogota with 7 coming from EPR.
Ryan Messick also had a major decision up 12-0. This win had put them to a record of 9 wins and 5 losses. The wrestling team is hoping to continue winning with a return from Jake Falotico and Chris Kersul along with new senior wrestler, Rey Vasquez. 
We asked Rey what it is like to be a part of this team; he said, " It is an amazing environment and you truly get to see how hard these boys work, and how much effort they put into it. It really feels like a family, and you know everyone has your back." 
With an amazing coaching staff led by Mr.Mazzeo and his son Luke, the EPR team seems to be in a very good position for their State run, and we hope that they continue to work hard and keep on winning.