EHS Key Club Takes on NYC – for a Cause
At around 8pm this past Saturday night, one of our buses was loaded with packages of food and drinks, toiletries, and clothing, and a group of Key Club members who were both nervous about and excited for the expedition ahead of them. Right around 8:30, bus driver Julio got behind the wheel and made his way toward the Big Apple.
The Midnight Run is a nonprofit organization that brings schools from around the Tri-State Area into New York City to help out and form personal connections with homeless people living on the streets. Groups are given a list of designated stops (they are known by the homeless as designated Midnight Run locations) where tables are set up with a handful of different options that might best suit the needs of these people. The idea behind giving them different choices, rather than just distributing random items, is that everyone has personal preferences, and one's living situation should not negate that.
The beginning of the night was off to a slow start, with nobody showing up at the first two locations. Things quickly picked up, however, as soon as we arrived at the third location people began to swarm in. Things kept busy for the rest of the night at the next stops, until it was time to pack it up and go home around 12am. By that point, we had given out most of the clothes we brought and we had been through several large bags of food and toiletries.
But why so late at night? Why not go during the day? English teacher and Key Club advisor Ms. Murphy, who has been involved with the Midnight Run organization since she was a kid, noted that "many of the most challenging obstacles they [the homeless] face (extreme weather, food insecurity, safety issues, loneliness) are amplified at night. There are more resources available for the homeless community during the day, so by providing assistance in the evening, it is a way to ensure they have continuous support".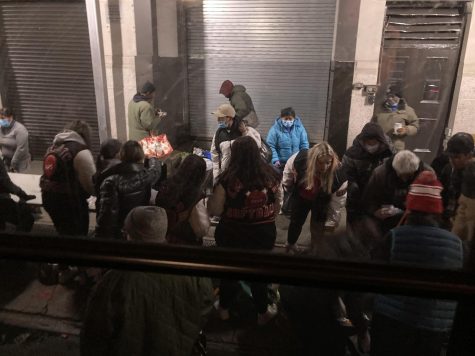 Aside from helping out the less fortunate, the main goal of the event was to end any stigma relating to homelessness. 12th grader and Key Club President Sarah Walsh said, "It definitely affected my perception of homelessness, it eliminated any stigma regarding homeless people, their attitude." Homeless people are often looked at as violent, drug-abusing, and other negative stereotypes. While this may, unfortunately, be the case sometimes, the majority are people just like us trying to live life and appreciate what they do have.
Sound like something you'd be interested in? Ms. Murphy also mentioned that anyone can participate in the Midnight Run if they would like. "The goal of the Midnight Run is so people sign up for dinner shifts every night. If you go to their website, anyone and everyone can sign up and give back."
Most, if not all, of those who participated can say that it was an eye-opening experience and helps us not only have sympathy for people in these living conditions, but also helps us to recognize how fortunate we really are.