Idaho Murder Mystery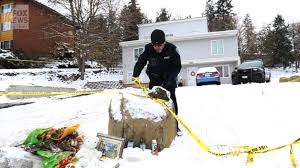 Have you heard about the Idaho Murders?  It's been all over the news.  We've been following the story, and now you can too.
This case took place at a college home with six students from The University of Idaho. Ethan Chapin, Kaylee Goncalves, Xana Kernodle and Madison Mogen. These were four students out of the six who were brutally murdered in the middle of the night on November 13th, 2022. There have been many researchers worldwide invested in this case. Now they have claimed a suspect of this tragedy.
One key point here is the layout of this house is not your normal floorplan. It is not as easy to access certain floors before walking through other floors. In fact, the suspect of this murder knew where the specific teenagers were on these floors because they entered only on certain floors.
This led to questions being asked such as, "Why didn't they go to the third floor?" and "How did they know what floors to enter from?".  It makes you wonder if the suspect was already very familiar with the floor plan.
The mysterious frat house that they all went to was right behind their house too. Many people thought that it could have been someone who was involved in the frat, or had issues with one of the students who was there.
Two of the girls who lived in the house arrived home very late that night, but left the frat at 9:45 pm and got home at 1:00 am. What happened during those three or so hours has yet to be told. 
Two of the girls' wounds appear to be worse than some of the other members' of the group, which means this was a targeted murder. Most of them had battle scars as if they were fighting someone off of them when they were trying to defend themselves.
There were many people that the six house members interacted with that night, and it could have been any of those people that they saw during the time span of 8:00 pm – 2:00 am.
Their killer did not even enter through the front door either. They only give their close friends the code to their house and, apparently, this suspect knew the code to get into the house to find them all. 
The police have released that they believe the killer was 28 year old Bryan C. Kohberger. They arrested him on Friday in Chestnuthill Township in the Pocono Mountains region of Pennsylvania. He was charged with four counts of murder, and declined to identify a possible motive at a news conference on Friday. On Friday morning, he was denied bail, and set to appear at an extradition hearing next week. 
A strange fact about Kohberger is that he was a Criminal Law Major who attended Washington State University – only ten miles away from the murders. He received his bachelor's degree from DeSales University, a Catholic institution in Center Valley, Pa. He continued his studies and received his master's degree in June of 2022. Kohberger lived in an apartment in Pullman, Washington. 
The Moscow Police were unable to find any possible motives for the murders of the three girls and the boyfriend of one of the girls. 
Kaylee Goncalves was born on June 9th 2001 in Concord California. She was an undergraduate student at the University of Idaho. Many said she was a very open-minded girl. She loved to travel, hike, swim, and spend time with her friends. 
Ethan Chapin was born on November 29 2001. His mother said, "one of the most incredible people you'll ever know" (foxnews.com).  He was a triplet. He was in the Sigma Chi fraternity, and was majoring in recreation, sport and tourism management at the University of Idaho. He loved sports, from golf to basketball to surfing to pickleball.
Xana Kernodle was born in Coeur d'Alene, Idaho, at Kootenai Health Hospital on July 5, 2002. She was a gymnast as a child and played volleyball, track, and soccer. She majored in marketing and was an active member of Pi Beta Phi sorority and the Vandal Solutions Sales Team. She enjoyed going to concerts, spending time with her friends, and going on family trips with her sister and father. She was a very positive and outgoing person who went out of her way to make everyone feel welcome and had a strong desire to live her life to the fullest.
Madison Mogenn was born on May 25, 2001, in Eugene, Oregon. Madison was known for her ability to make others smile and laugh. Many admired her focus and dedication to her future. She was always a kind girl and had the ability to brighten up anyone's day.
While this article is finished, this story – clearly – isn't.