Macy's Thanksgiving Day Parade
The origin of Macy's Thanksgiving Day Parade begins all the way back in 1924. During this year, Macy's flagship store in Manhattan's Herald Square expanded its business, covering an entire city block stretching from Broadway to Seventh Avenue along 34th Street. This accomplishment made Macy's want to showcase the opening of the "World's Largest Store" and its 1 million square feet of retail space at the start of the busy holiday shopping season.
Macy's committed to throw New York a parade on Thanksgiving morning. However, the parade was not actually about Thanksgiving at all but it was moreso a Christmas parade. Macy's was hoping that their parade would entice shoppers to come on down and shop for the holidays.
As of today, Macy's held its 96th Thanksgiving Parade on November 24th at 9:00 am. Inside a 72,000-square-foot warehouse in Moonachie, NJ, around 30 skilled artists worked year-round to organize and prepare the 2022 Macy's Thanksgiving Day Parade. With around 300 pounds of glitter sprinkled over costumes and floats, over 50,000 hours of hard labor, and around 4,200 costumes was needed to complete the planning of the parade and prepare the march towards Macy's Herald Square.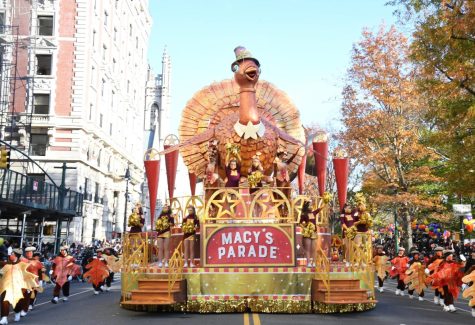 The march began at West 77th Street and at  Central Park West at 9:00 am. The Parade then turned onto Central Park South and headed south onto 6th Avenue. Its final destination landed at Macy's Herald Square where everyone gathered around to celebrate the end of the parade.
Stunning performances were made by the Lincoln-Way High School Marching Band coming from Frankfort, Illinois, Macy's Great American Marching Band, and the NYPD Marching Band. Other performers stepped up and joined the parade such as Aespa, one of South Korea's most daring new K-pop acts, Andy Grammer, a singer/songwriter who is known for his soulful pop songs, and Foreigner, a rock band that has scored 10 multi platinum albums and 16 Top 30 hits over more than four decades.
All in all, again Macy's unleashed a beautiful spectacle for all to see and proudly marched the streets of New York with pride and joy. They will continue with their parades and they will be back in 2023.