Cobra Kai—Why it is Worth Your Time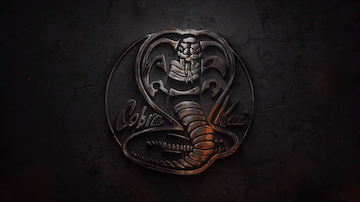 The spin-off show, Cobra Kai, based on the Karate Kid films has taken the world by storm—compacted with nostalgia, improved karate skills, and a dramatic plot line.
The Netflix series, Cobra Kai, created by Josh Heald, Jon Hurwitz, and Hayden Schlossberg has gained a significant amount of popularity since its release on Netflix in January 2021. Originally, the first two seasons were released on Youtube Premium, where it gained attraction. However, everything changed for the series upon its Netflix release. Viewers skyrocketed, and it became more popular than ever. Cobra Kai ranges from humorous jokes to drama that will have you eager to see what is going to happen next. The show revolves around the rivalry of the two characters featured in the first Karate Kid film, navigating through their adult lives post-karate tournament, where they fought each other as teenagers. 
The two main characters revived from the first film are Daniel LaRusso and Johnny Lawrence, who both become the senseis of their respective dojos. With this older generation of characters, there lies a newer generation of teenagers, who begin to learn karate through these legends. Johnny Lawrence becomes a mentor to his neighbor who he witnessed being bullied, Miguel Diaz. After seeing Johnny reopen the dojo that traumatized Daniel as a teenager, Daniel takes it upon himself to open up his own dojo called Miyagi-Do. He begins to take on a student by the name of Robby Keene. After some time, Daniel also begins to teach his daughter Samantha. Cobra Kai begins to receive many students, whereas Daniel's dojo remains fairly empty for a while. The hostility demonstrated between Cobra Kai causes a clash between the peaceful learning style of Miyagi-Do, and this is where the majority of the drama begins to pile up.
The show currently has five seasons released on Netflix with a total of fifty episodes. Unfortunately, the more the plot progresses, the less cohesive it becomes. Many of the episodes within seasons four and five are significantly less action-packed and overall less interesting. Additionally, the script is lacking in comedic value, and the writing has not served many of the main characters justice.  An example of this is how some characters will not be written in for multiple episodes at a time, leaving viewers with anticipation of when they are going to be seeing a beloved character. Cobra Kai has struggled to maintain the factors of nostalgia and comedy that it was originally loved for. 
Despite the flaws of Cobra Kai, it has remained a popular show due to its overall entertainment value. Even though it is less interesting than previous seasons, and the writing is not as sufficient, they have created lovable characters that their audience is interested in seeing more of. The fight scenes that are included in the series are generally enjoyable to watch, with the incorporation of various fighting styles and martial arts, setting it apart from other shows.
The main strength of Cobra Kai is the season finales they produce. These are consistently the most entertaining episodes within each season,  and they are the most action-packed by far. Take the season two finale, for example. With the inclusion of a half-hour-long fight scene inside a high school, this finale had viewers watching in suspense the entire time. This is the reason the series has been able to continue, as it is always concluded on a strong note. 
The earlier seasons of Cobra Kai start on a strong note and the show is initially incredibly captivating. This starts to dull as the seasons continue, however, overall it is still fairly entertaining. From the intense fighting scenes to the exaggerated drama, Cobra Kai does have plenty to offer its viewers. The show is a four out of five stars,  and individuals should give it a chance if they want a more easy-going tv-show to watch.