The Class of 2023 Takes on Powderpuff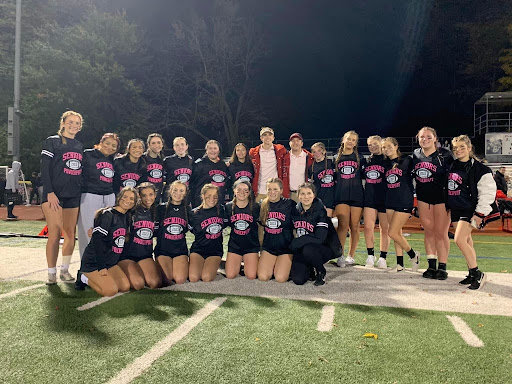 After many covid-restricted high school years, the Class of 2023 was ecstatic to be returning to a fully-unmasked, activity-filled senior year.  Earlier this month, the Seniors were able to participate in Spirit Week, as well as the first indoor pep rally since their eighth-grade year at EHS. 
After the lively pep rally, the week was concluded with the annual Powderpuff game, a friendly competition between the Senior and Junior classes here at Emerson. Originally meant to take place on Thursday, October 13th, the inclement weather caused the event to be postponed. Therefore, the event took place this past Tuesday, October 18th at 7 pm on the turf field, and was followed by the annual bonfire.
On the night of the event, the intensity was high as the Seniors were finally going to be able to put all of their hard work for the past three weeks to use. During practices, which were typical twice a week, head coaches Nick Seretis, Matthew Coyle, Ashton ElAnsari, and Thomas Benkovic went over game strategies with players. Players would also partake in circuit drills and scrimmages at these practices.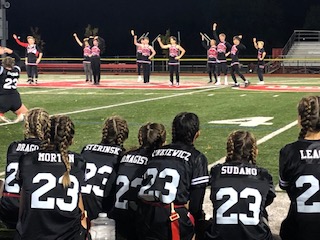 On game night, the Seniors came out with a 7-0 lead against the Junior class, which soon enough resulted in a 14-0 lead at halftime. One of the head coaches, Nick Seretis, exclaimed, "I think the game went great for the seniors and the Emerson Community as a whole. The event brought everyone together for this awesome Emerson tradition. My time coaching was very fun.  We had fun at practices, and came up with a successful game plan for the actual game day." 
The halftime show was then full of amusing dances from the Senior and Junior cheerleaders! Here's an inside look at what one of the cheer coaches Madeline Praschil had to say about the night. Madeline said, "I think the game went amazing. Every player did a great job and in the end, it paid off because we won by a long shot." 
The Senior cheerleaders were led by Jamie Hernandez, Carrie Freedman, Madison Brahm, and Madeline Praschil, while the Juniors were coached by Faith Rivers and Bella Hall. 
Madeline also had to say, "I think the cheerleaders did amazing but definitely I am super proud of the Senior cheerleaders. I think their halftime show couldn't have been better and I had a great time coaching. Although they were distracted, in the end, they were great to work with, and we all had a super fun time together!"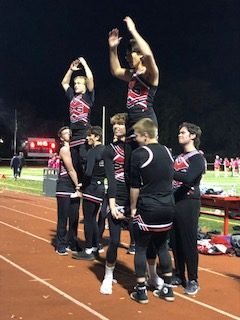 The entire event was full of cheering and positive energy from both teams, making it a very memorable night. 
Following the halftime event, the game continued and ultimately concluded in a 21-0 Senior win, allowing the class of 2023 to start the year off on a win!
#Candice #VictoryWendesday #2023