Raising Awareness for Breast Cancer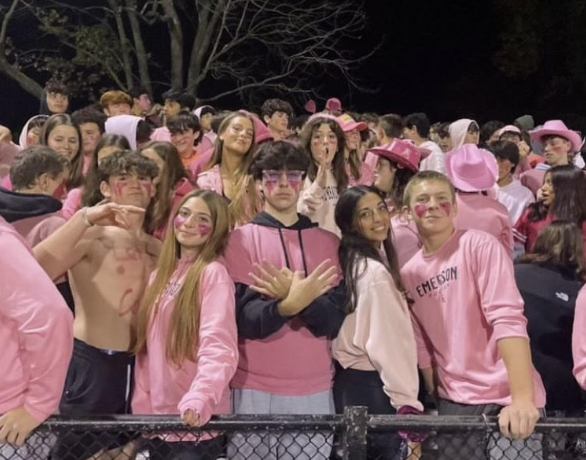 Cavo Cancer Crusher advisor, Natalie Rehak, provides information on how to raise awareness for breast cancer in the Emerson community.
October is a month dedicated to raising awareness for breast cancer, as it has been a growing concern prolonging till today. The average risk of a woman developing breast cancer is 13%, meaning that 1 in 8 women will have a chance of developing the disease (American Cancer Society). Unfortunately, since there is still no cure, lives will continue to be lost to the invasive disease.
The Emerson Junior-Senior High School club, Cavo Cancer Crushers, has been successful in previous years with raising funds and spreading awareness throughout the community regarding cancer. They have contributed several ideas to actively engage the community in fighting against various types of cancer. This year, for Breast Cancer Awareness Month, the club has planned out ways for students to advocate in the fight against breast cancer.
"We are going to be selling breast cancer bracelets that are being handmade by the middle school group of club members, and we're working with different sports teams at Emerson High School to wear pink at the games. We're also doing a Breast Cancer Awareness Day and there will be a pink-out with a photo booth that will be decorated with signs," says Cavo Cancer Crusher advisor, Natalie Rehak.
Wearing pink at sports games has been a successful way to engage every student in attendance, and has received a great turnout each time. Students go above and beyond with their pink accessories, as well as face paint. They are demonstrating their eagerness to participate in advocacy for the cause. 
When asked about other ways to spread awareness, Natalie Rehak provided simple yet efficient options.
"So, I would say everyone can help by being a part of our social media campaign, and the money we collect from the bracelets will be going to the American Cancer Society so people can support that. The most important thing people can do is make sure that people they know are keeping up with their testing because it is preventable, and it is a shame when people wait and find out that they are in stage 4. Prevention is the most important thing," says Cavo Cancer Crusher advisor, Natalie Rehak.
Reminding loved ones to keep up-to-date with their checkups is the simplest form of prevention and anyone can do it. Let's be the generation to stop the spread of breast cancer!