Emerson Girls' Soccer Update
The Emerson Girls' Soccer Team has had 10 games so far in their season. They have a  record of 4-6. Their wins came over New Milford 3-2, Dwight-Morrow 3-2, Midland Park 4-0, and Woodridge 2-0. Their losses were Pompton Lakes 4-1, Waldwick 5-0, Cresskill 4-3, Westwood 2-1, Park Ridge 3-0, and New Milford 3-4.
Unfortunately, the team is out of counties due to its loss against Westwood. The score was 2-1 but it was a very intense and emotional game. The girls managed to come back at them in the second half, and the goal was scored by Victoria Sterinsky.
On October 10, the girls went against New Milford, and went over two overtimes for 10 minutes. Sadly, New Milford scored in the last minute. It was a very fierce game and one of the best games played this season. The first game against New Milford was also very strong and the girls won against them 3-2. 
Emerson also went against Dwight-Morrow earlier in the season.  The girls went to overtime, and won in the first 10 minutes. The goals were scored by Erin DeMagistris, Allie Palladino, and the golden goal was scored by freshman Kylie Grompone. 
All of the girls' soccer games have been stressful due to the close scores, but – overall – each team member has been working hard and trying to make the most of this soccer season. 
Emerson Girls' Soccer Team is a very young team with two freshmen,  sixteen sophomores, three juniors, and seven seniors. The girls' team has been through a lot this season with a total of eight injuries, but has continued to play a strong season nonetheless.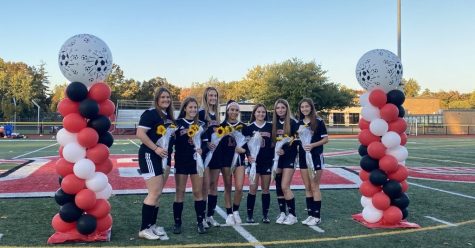 When asked, "How can our team be more successful in the upcoming games?" Captain Bobbi Morton responded, "I think our team can improve by continuing to bond on and off the field because it will help create relationships that will allow everyone to feel comfortable with each other. I also think remaining confident and sticking together through wins and losses will help us learn what we need to work on and improve our style of play."
Morton has been a great teammate and captain throughout the season. She has helped many underclassmen become stronger players.
Sophomore Sophie Nisonoff added that one aspect of coaching that has helped her improve as a team player is the drills.  "The drills we've done during practice have helped me improve my ball skills and keep my head up to make accurate passes. They've also helped us communicate and be vocal on the field," said Nisonoff.
"I think that we are doing a good job at hustling and not giving up even if we are down," said Senior Carrie Freedman.
As the girls' soccer team continues to play, they hope to improve on these skills, and finish a strong soccer season. The girls are looking forward to this week since they have more games coming up, and more opportunities to shine on the field. 
To stay updated check out the GoCavos page and support the girls' soccer team.