Autism Awareness Month (April and Always)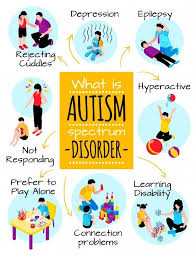 Learning About What Makes Everyone Different 
What is it?
Autism Awareness Month (April) involves sharing stories and providing a multitude of opportunities to increase our understanding and acceptance of people with autism.
We dove in and asked the Vice President of the Autism Awareness Club, Jaden Todd, what autism is, and what happens in the club.
Into the nitty gritty!
Specifically, as described by doctors, autism is a serious developmental disorder that involves the impaired ability to communicate and or interact. There are many different levels of the spectrum, depending on genetics and or birth complications. 
Just as there are different levels of autism on the spectrum, people have different degrees of understanding as to what it all means.  This is where the Autism Awareness Club comes into play.
The club meets twice a month, and advisors Mrs. Polizzi and Mrs. Murphy are always happy to have new and curious students stop in to find out more.
"We do a walk every April for Autism Awareness Month," says Jaden Todd. He explains, "We mainly spread awareness among ourselves by teaching each other, every meeting, something new about autism."  There is definitely a lot to learn!
The Autism Awareness Club is used to describe and further understand the struggles many autistic Americans face throughout each day, but we can learn more and support autism by educating ourselves, becoming involved in programs, and donating to organizations around the globe fighting autism!
Where to educate yourself: https://go.sju.edu/image-sem-kinney_lp?gclid=CjwKCAjwu_mSBhAYEiwA5BBmf4i49uQcojPtvOBEYvj6mkqEH5Mt-4i7G6cmS66FcmWSTWrHHZGmThoCLCcQAvD_BwE
Where to donate: https://autismsociety.org