The Truth Behind The Pinwheels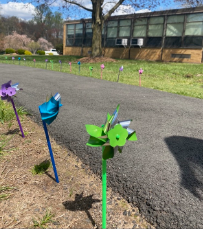 When walking into school, have you noticed the colorful pinwheels bordering the sidewalk? You may have thought that they were put there to celebrate the spring, or just for decoration, but have you ever wondered about the true meaning behind them? 
April was Alcohol Awareness Month so, in order to spread awareness, our school's Student Council put out pinwheels. Each pinwheel represents 10 to 5,000 youth deaths connected to underage drinking and related incidents. Mrs. Biondo, a counselor at EHS, and the Student Council members assembled the hundreds of the pinwheels with purpose.
"The pinwheels are a powerful way for students to see the impact that alcohol can have on them.  It is something that should be taken very seriously, and it serves as a reminder to make healthy and responsible decisions," says Mrs. Biondo. 
  It's important to inform all the students at EHS just how dangerous alcohol can be, and prevent any underage drinking.