Athletes & Mental Health: Breaking the Stigma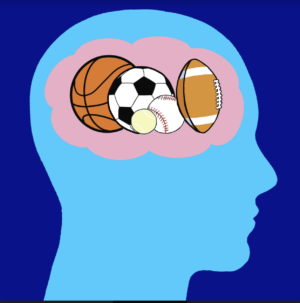 Blood, sweat, and tears…  All of the hard work since grade school has finally paid off. The 4am mornings to the late nights make going to the Olympics all worthwhile. Your physical state may be in tip-top shape, but is your mind? 
Not long ago, gymnast Simone Biles removed herself from competing in the 2021 Tokyo Olympics. Little did she know, this decision would spark athletes' mental health across the world.  
Biles has always been transparent with her mental health struggles and the week on July 31st, she dropped out of the individual all-around competition, withdrawing from the finals. This not only shocked the public, but now Biles would not get those 6 gold medals she was headlined to receive. 
Biles is one of millions of athletes that are open with their mental health. Profound athletes such as Naomi Osaka and Michael Phelps have also opened up about their struggles. 
In a twitter post Osaka opened up about her struggles, "Anyone who knows me knows I often wear headphones as that helps dull my social anxiety. I am not a natural public speaker, and get waves of anxiety…(Osaka). She tweeted this the same time she withdrew from the French Open after being fined for not going to press conferences. 
Michael Phelps has also been open with his mental health, even teaming up with Talkspace which started in May of 2018. An online therapy app that acts as a therapy session helped millions of people like Phelps cope with their anxiety.  
Talkspace praised Phelps as "Our partnership with Phelps has been tremendously successful, in both driving leading brand awareness, as well as addressing the stigma around seeking therapy," said Sam Braunstein, chief marketing officer at Talkspace, in a statement.  "In our latest campaign, we are building on the ways in which therapy has helped Phelps overcome challenges with mental health, but also highlighting how our diverse members also transform their lives "with a little help from" our therapists" (Jardline) .  
Mental Health in the athletic world needs to be talked about more, and together we can break the stigma on mental health. 
https://adage.com/creativity/work/michael-phelps-reveals-therapy-helps-mental-health-talkspace-ad/2390321#:~:text=Phelps%20first%20teamed%20up%20with,of%20using%20the%20Talkspace%20app.
 Article link source