Mask Mandate Lifted: Will Students Continue to Wear Masks?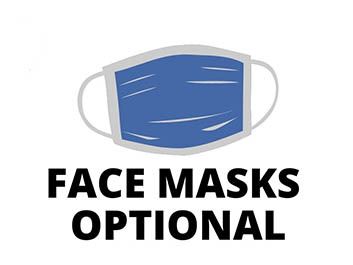 Starting March 7, 2022, EJSHS students have been permitted to enter and complete the school day mask-free. With all the controversy surrounding Covid safety, it's difficult to predict what precautions EJSHS students will take with the newly-lifted mask mandate. 75 EJSHS students from grades 8-12 were surveyed regarding their views on the lifted mask mandate and how they would continue the school year.
According to the survey, 68% of students reported that they would not continue to wear masks throughout the school day. An anonymous 12th grader admitted, "We have been wearing masks for too long and I am READY for them to be gone and to return to normal." After reviewing the responses, this seems to be a very common feeling among students – especially as EJSHS students have not had a fully mask-free school day since 2020. Many students, along with Faith Rivers, a 10th grader, have reported that they will also not continue to wear their masks.  Faith explained, "I don't want to. I don't really wear it right normally, so why keep wearing it?" 
From a more scientific perspective, 10th-grade student Jeremy Lachman reported that he will not continue to wear a mask in school as "cases have dropped." Another anonymous 10th-grade student, along with many others stated that the reason they will not be wearing a mask in school is due to their updated vaccine status, "I'm vaccinated and boosted."
Based on the survey, 32% of students will continue to wear masks in school. Deacon Marsico is one of the students who are choosing to continue wearing masks.  His reasoning? "To put bluntly, it's a dumb idea. Covid will surge again, and the mandate will be put into action again." Many of the students surveyed, despite the mask mandate being lifted, reported that they will still wear masks for their safety. An anonymous 11th grader, when asked "Why will you continue to wear your mask?", stated, "Because Covid is still a thing, and even with the vaccine I can get it." 
Students also reported that they will continue to wear masks to prevent any absences from extra-curricular activities in case they test positive. "Due to spring sports starting shortly, I think it's best to remain safe so I can avoid missing days of practices and/or meets," said sophomore student Olyvia Burrell. Sports teams have been a primary way of spreading Covid in schools, which may ultimately bring cases up again. "I feel like it's better [to wear a mask] because when the mask goes off, the cases increase," added an anonymous junior student. 
With the mask mandate being lifted, there are various ways students are reacting  – based on the survey. Understandably, some are excited to go back to normal, while others are still nervous and plan to continue protecting themselves and others.