What's Next for Gronk?
In the midst of Tom Brady retiring, many are asking, "What's next for Gronk?"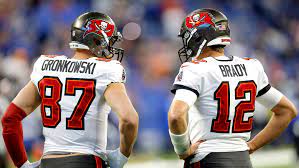 Rob Gronkowski, a tight end, played with Brady on the New England Patriots since getting drafted in 2010. Gronkowski, also known as Gronk, had retired in 2019 but after about a year, he came out of retirement to join his friend and former teammate, Tom Brady, on the Buccaneers. This leaves fans wondering about what he will do now that Brady is no longer in the mix.
Tom Brady, who was surprisingly the 199th NFL draft pick in 2000, ended his season with record breaking statistics. He won 7 Super Bowls, which is more than any franchise has won in NFL history. The 44 year old also ranked 1st in the following categories: Pass yards and touchdowns, wins, win percentages, Pro Bowls, Super Bowl appearances, Superbowl wins, Super Bowl MVPs, Conference Championship appearances, playoff yards, playoff touchdowns, and playoff wins. Much of this came with the help of Gronk.
Gronkowski had been in retirement up until Tom Brady asked that he come back and assist him with the Bucs. They had a Superbowl winning team as they brought home the Vince Lombardi trophy in the 2021 game, beating Kansas City 31-9.
Gronkowski, Brady, and the Tampa Bay Buccaneers tried to bring home the trophy for the second year in a row but were knocked out of the playoffs this year by the Los Angeles Rams. After a disappointing loss of 30-27, Brady retired and the Los Angeles Rams were the team to fight for the Superbowl win on February 13, 2022. 
Students, especially seniors, at Emerson have been debating what Gronk's next step will be. Some say that he will spend more time with the Bucs and his decisions will be totally separate from Brady's. Others think that Gronkowski will follow Brady's footsteps and that he will not be far behind him in regards to retiring.
Some fans, such as Emma Worthington and Alexandra Belevan, think that he has reached his limit.
 "I feel like he's going to follow him with retirement because Tom was the reason he came back initially," said senior student Worthington. 
"I think Gronk will retire with Brady because he has followed him everywhere and can't seem to be with any other quarterback," said Alexandra Belevan.
Aside from Tom Brady, Rob Gronkowski has his own achievements. In 2015 Gronk won both the NFL Comeback Player of the Year Award and the Best Comeback Athlete ESPY Award. In 2019, Gronk was awarded another ESPY for Best Moment.
With the Bucs season over and Tom Brady gone, there are still others that speculate he will continue on as he is a talented player of his own accord. 
"I think that Gronk will maybe continue a couple more seasons. I know he's got a strong love for the game and I don't think that just because Brady is retiring, that he will retire too," said senior Natalia Baron.
As comments, opinions, and speculations rage on at Emerson Junior Senior High School, one question remains- What is next for Gronk?