Spanish Teachers' Trips Connects the Lives of Everyone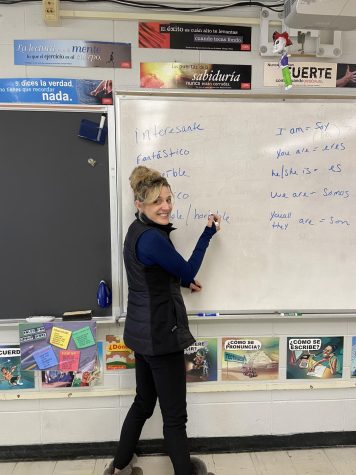 Another school year down and another summer of traveling to help others in need. Jennifer Haveman is both a middle school and high school teacher at Emerson Junior-Senior High School in New Jersey. She teaches 7th-grade 8th grade, and 9th grade Spanish to her wonderful students with her great teaching methods. She has been at EJSHS for many years but still continues to teach her students about the art of Spanish.
Apart from teaching Spanish, she enjoys doing track and rock climbing. Mrs. Haveman and her husband, who is a pastor at Parks Sides Community Church in Westwood, NJ, have been doing mission trips every other summer for quite a while. 
They would take kids from their church as well as students from EHS who would be interested to take part in the trip. Together they would build and repair people's homes and help anyone who is stuck in poverty.
On these mission trips, where did you go?
So we've gone to Kentucky, New Mexico, West Virginia twice, Puerto Rico, and Ohio. We also went to New Orleans right after Hurricane Katrina.
We do this mission trip and take kids from the church but there are usually two or three kids. This is because we are a really small church and we are all about helping young people realize and understand that the world is so much better than just this little Bergen county area. Our goal and mission are to get kids out into the world and to see the world as a larger community, as a bigger group of people, and to get out and help other people.
What activities and work did you contribute to while you were on these trips?
We go for a week, work our butts off, and build houses or community centers from 8 a.m to 4 p.m. Then, we are free for the rest of the day, and also at some point in the trip, we have a free day.
When we were in Puerto Rico, we were able to let the kids loose out of town. All of us in San Juan were able to visit and experience the castle there. The kids were able to wander around and go shopping and experience the culture and we spent the day on the beach.
What were the people's reactions when you guys were building and repairing their homes?
These little Puerto Rican women were cooking because that's the one thing they can give back. We were painting, scraping the old paint, repainting, and scraping mold off. All-day long we wore masks and goggles scraping paint off the ceilings. It was such a thankless, horrible, dirty, hot job and these people all day long were bringing and making us fruit, ropa vieja, and making us all this food.
The kids were like, "Oh my gosh these people are cooking this stuff for us" and I was like, "Yeah, because they are thankful and they want to help back".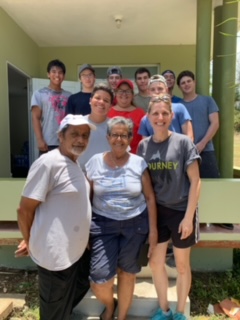 While you were in Puerto Rico, were your students more appreciative about learning Spanish?
Yes, it was amazing. Geo Ramaci as a senior went on this trip and I had him in 7th grade, 8th grade, and 9th grade Spanish. He only took that one year and he was like "I don't really like it" but he's a smart kid and he always did his work but he really didn't like Spanish.
When he got to Puerto Rico and that kid, I swear to you became a whole different kid. It was amazing and all these other kids were like "Oh my god, we are actually speaking Spanish to people".
Did you feel proud seeing your students finally using the Spanish skills that you have taught them?
I was just in tears and I was like this is what my job is all about. If I could somehow in the classroom do what I'm able to do in real life and take these kids and put them in an actual Spanish-speaking environment, my class would be a whole different class. People would be excited to be learning Spanish and speaking Spanish and not be like "I hate Spanish".
Having them be in a place where they had to use the language and it meant something to them it would be a whole different ball game in my class. 
How was the poverty in West Virginia?
The people that we helped there and the kids that we helped did not own shoes. They were running around without shoes and they had two pairs of clothes. These people were living in a trailer. I remember the students that year we're blown away and their mouths were open all the time going, "Uh, those kids don't have clothes, those kids are using an outhouse".
People were so floored at how much poverty there was. They were coming into school every day and the kids from this mission trip would come in and bring me care packages. The kids would go shopping at Marshalls or wherever and box what they bought.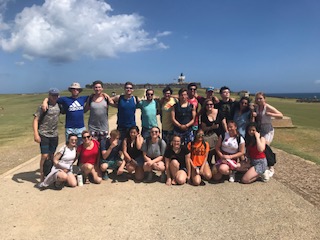 While working together with one another, did the kids form new friendships with one another?
On the second mission trip, Greg White, a kid from my church, and Cassady Wilson, a student of mine, went together on this trip. She was a freshman at the time. During this trip, Greg met Cassady and they kinda hit it off. Then, soon they became friends and throughout the summer they continued to talk and they kind of started dating a little bit as much as you can as a freshman.
Not next year but the year after, we went again and they were juniors or seniors and they went on the mission trip again. Both of them were on this trip and they started actually dating. Last October, my husband actually did their wedding and they got married. They never would have met each other otherwise if it wasn't for this trip and their paths would have never crossed.
Once the pandemic ends, will you still continue these trips to help out?
As long as I'm a teacher here at Emerson, I will definitely feel like teaching has been a grand adventure. It has been a gift and it has been a blessing because as much as I taught and maybe blessed some people I have been so blessed by so many different kids for twenty years. It will be a sad day when I'm not able to help out with this great opportunity anymore but, for me, my journey may take a new path;  I may be ready for something new in my future…What else is out there in the world? But for as long as I can, I will try to continue these trips.
All of Mrs. Haveman's trips were able to unite all of these people and help the kids have a better understanding of the world around them. There are so many people around the world to help and seeing these people struggle makes others more appreciative of what they have. These trips have blessed so many people and it has opened up the kids' eyes to see how much people are in need. The ones that are suffering need somebody to come along and help and care for their situation just like how Mrs. Haveman and her kids did.