Kindness Costs Nothing, but Means Everything
A young biology teacher opens up about her early encounters with discrimination as a Korean woman in Argentina and expresses the need for kindness.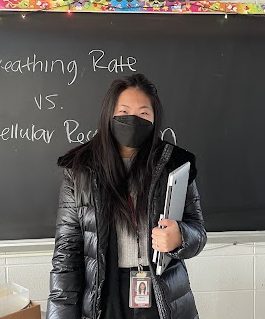 Despite working side by side day in an day out, many students do not know much about their teachers, and are often blindsided by how fascinating their lives outside of school may be. For that very reason, students may be surprised by the inspiration that their teachers are willing to offer. 
As a way to end this lack of communication between students like myself and the teachers, I decided to take initiative in learning about one of Emerson Junior-Senior High School's own, Mrs. No.  
Mrs. No is a Biology teacher here at the high school, who has a much more fascinating backstory than students may think. On the surface, she may seem like an ordinary teacher with her coffee mug and computer at her side; however, behind her bright smile, there is a story. 
Before pursuing education, Mrs. No was born and raised in Buenos Aires, Argentina until the age of 16. It is this part of her life which has impacted the person she is today.            
You were born in Argentina. What was it like? Did you enjoy it?
Buenos Aires looks more like a city, rather than an urban area like Emerson. It is also the capital of Argentina. There are a lot of buildings, complexes, businesses, etc. Some side roads were even made of stone, which reminded me of Italy. 
I had a lot of fun experiences in school. However, due to my race and ethnicity, I did not feel welcomed in a lot of places and was discriminated against on a daily basis. 
What fond memories do you have from Argentina? 
Overall, I did enjoy living in Argentina. One of the things that I enjoyed the most was ice cream delivery. In Argentina, there is a really famous ice cream store called Freddo (chain store). I used to order ice cream and empanadas for delivery almost weekly.  
Can you tell me more about the discrimination you experienced?
I experienced a lot of discrimination and racism in Argentina since Asian people were not exactly welcome in the community. There were many racist comments towards my looks both inside and outside of school.
Did this motivate you to start the Unity Club at Emerson Junior-Senior High School?
Through the Unity Club, I hope to promote diversity and inclusivity in the high school to ensure that all students feel represented.
How did those experiences shape you into the individual you are today?
I went through a lot of identity crises throughout my childhood. I identified myself as an Argentinian that had Asian looks. At home, I was raised in Korean culture. I spoke Korean to my parents, ate Korean food, listened to Korean music, etc. Outside of the home, I acted like an Argentinian person. I wanted to fit in with my friends so badly that I often ignored Korean culture and almost felt ashamed of it. 
What was Korean culture like? How does it differ from American culture?
Korean culture is very similar to Spanish culture since we both have a separate way of expressing languages as a sign of respect. Along with that, Korean culture has amazing food, specifically barbeque. 
What major life lessons did you learn from your time in Argentina? 
One of the biggest life lessons I have learned is to celebrate different cultures, embrace who I am as a person, be thankful that I had the opportunity to live in another country and be kind ALWAYS. 
As a result of her experiences being a part of the minority group, Mrs. No hopes to spread awareness through her Unity Club and continue to inspire her students to be inclusive of all individuals no matter what. 
Emerson High School would not be the same without Mrs. No, a teacher who radiates positivity with every class period and shows exquisite care for each and every one of her students while also inspiring them to be the best they can be. 
She even advises all her students to "Always be kind and honest since, in the end, honesty always wins".