Once a Champion, Now a Future Champion's Gymnast Coach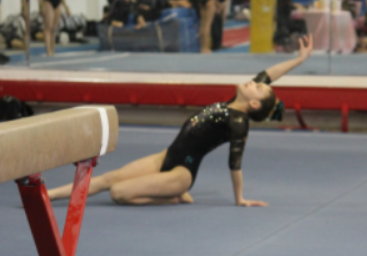 Most nights, just about the time when most students were settling down and getting ready to eat dinner or finish up on homework, Sophomore Sofia El-Ansari  would leave for a three and a half hour gymnastics practice. Unlike many school sports that are in the public eye, El-Ansari did not get the same recognition as many of her fellow student athletes. As gymnastics is not something the Emerson schools provide as a sport, she competed, practiced, and now coaches in a local gymnastics gym in Hillsdale. 
At a young age, she fell in love with the sport of gymnastics. Even though she wasn't fully aware of what the sport was, nothing held her back from excelling and winning many awards throughout her career.  Through her nearly ten-year gymnastics career, there were many ups and downs when dealing with such an independent and physically demanding sport. 
After a battle with arthritis, stress, and mixed feelings about the sport, El-Ansari decided she needed a break from this demanding sport and took up a position as a coach at the same gym where she herself trained. In the following interview, El-Ansari shares what it is like to compete at such a high level and what is it like to teach the sport she once loved.
What did your typical schedule look like?
On regular days when I used to have gymnastics, I would try and get homework done before since I would be out so late. For practice, I would usually leave for the gym around 5:30 pm and end at 9:00 pm.
Out of your accomplishments, which one meant the most to you and why? 
The accomplishment that meant the most to me was definitely my state meet, where I came in first place. Looking back, it meant a lot to me that I was able to end my gymnastics career so well
What were some of your emotions when you won your state championship?
I was in shock for the first part but then I was very proud of myself and realized I deserved it.
What is your favorite event and why?
I think that my favorite event was floor, probably because it was the event I did best in. Floor gave me the opportunity to really express myself, which I found to be the most fun. 
Why did you quit competing in gymnastics?
I have arthritis in my back and my knee from it. I was physically not able to do the skills due to the pain I was in from my knees and back. It also just wasn't as fun as it used to be and it wasn't rewarding anymore. 
What made you want to coach younger kids gymnastics?
I wanted to help kids get the same joy I did when doing gymnastics. It also keeps me connected to the gym since I love the atmosphere there.
"Gymnastics has taught me a lot, but what really stuck with me was the discipline it taught me. It also helped me become more independent because I was always working for myself and pushing myself to become better and better every day."