Emerson Graduate: What She's Doing Now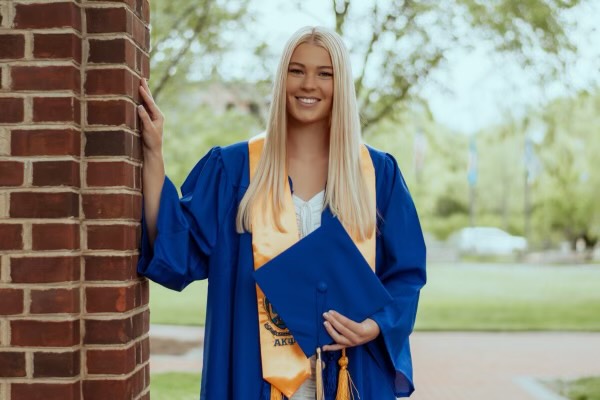 Former Emerson student Victoria Leach, Class of 2017, reveals what she is doing now after graduating from the University of Delaware in 2021.
Victoria Leach wakes up and gets ready to work virtually. She sits at her desk and opens her computer. Then she is ready to start her day working for Village Marketing – an influencer marketing agency based in NYC. Throughout the day she attends meetings, reaches out to influencers to sponsor brands, and makes several sponsorship lists for different brands. 
"My role at Village Marketing is as a marketing coordinator. I discover influencers that best fit with my clients' needs, support in the execution of partnerships, support performance analysis of influencer partnerships, and support in client/team management. Influencer marketing has always been a passion of mine and it's been super cool to see the process of how everything works."  
When Victoria was an Emerson student she always knew she had a passion for marketing. As she continued her education as a marketing major, with a minor in advertising at the University of Delaware, she decided that she would like to proceed with a career relating to her major, more specifically influencer marketing.
"I decided I wanted to work in the influencer marketing industry because it is a way for brands to tell unique stories through all different kinds of people."
Village Marketing is a company that builds brands through social media. This company stood out to Victoria because it is an all-female marketing agency. This is one of the qualities that she has been looking for in a company. Victoria knew since she was in college that she would really enjoy working for a female-founded company. 
"When I first heard about Village Marketing I was instantly inspired. It's an all-female marketing agency where they believe empowered women empower women. It can be tough to feel valued working in the business world as a female but my company ensures that every one of us knows just how important we are to village marketing."
Victoria works with her coworkers to find influencers to promote their clients' brands and products. Some of their clients include Nike, Boll and Branch, Venmo, Soulcycle, Netflix, Spotify, Amazon, and The White House. Some influencers that promote these brands are Jessie James & Eric Decker, Shawn Johnson & Andrew East, Tammin Sursok, and Amelie Zilber. After the partnership is confirmed, Victoria's job is to monitor these influencers' social media to make sure that they are promoting the brand. When all the work is done, Victoria begins the rest of the weekend by spending time with friends and family and going to the gym.