Volleyball Team Serves Up a Great Season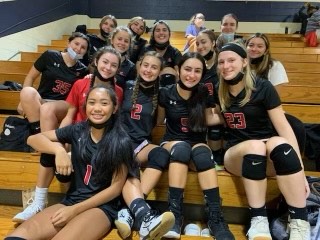 After last year's season cut short by the pandemic, the Emerson Varsity Volleyball team is set for a great 2021-2022 year, beginning with a 2-0 set win against Westwood. 
The returning members of the team are thrilled to get back on the court this fall, starting with a win against Westwood 27-25 in the first set and 25-18 in the second. The team consists of eleven players ranging from freshman to the senior captains Alex Belevan and Celine Mallouhi.
Even though the season was postponed due to the pandemic, the girls continued to improve their volleyball skills for this upcoming year. 
"We are all just happy to be back on the court together" said Junior, Natalie Graham. 
Once again undertaking how the coronavirus pandemic hurt their season last year it did not stop them from trying their hardest and making sure they had a great comeback season. "Having the ability to also have more opportunities to participate in tournaments and have more matches is also a great experience for our seniors," said Head Coach, Cirella
The team has kept up their hard work and determination each season. As a result of their positive attitudes and great efforts they have been improving each game. 
"We are definitely at a higher level than the previous years, since this year the team is more competitive with the others in this league," said Junior, Ryan Grompone. 
This week the volleyball team also had great success against Park Ridge rivals. For the first time in years, they have taken the victory. The first set was won 25-18 by Emerson and the second 25-23. 
According to Coach Cirella, the team bond this year is very strong and great since there are a lot of returning juniors and seniors. There are so many upperclassmen they are making sure they take the lead and make it an enjoyable season for all the players. 
Overall, the Varsity Volleyball team here at Emerson is off to an outstanding start with a 5-3 record and are taking large efforts to keep each other healthy during these times. Be sure to attend the next game Tuesday, October 5th against Waldwick at home. Masks are not required.