Tennis Team Loves Being Back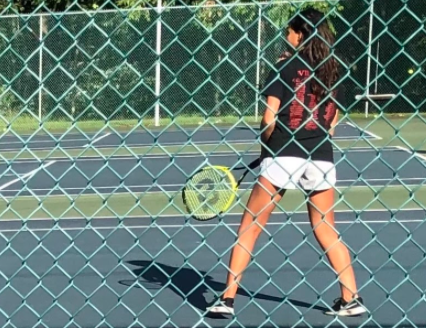 This year's girls team is having a good season, with a 3-2 beginning season record.  
This Saturday, Emerson's Tennis team competed in Counties at Northern Valley Regional High School for the first time in two years ago due to Covid.  
Although they did not advance during the tournament, they were happy to be playing and enjoyed playing against some of the top players in the county.
With the Covid-19 pandemic in 2020, sports teams were devastated with the postponement and cancellation of important sports events. Now, athletes from Emerson's own girls tennis team had their first chance to play in the county tournament since 2019. 
"I am excited to play in counties because even though I was on varsity last year, I never got to play in the county tournament because of Covid" says Eleeza Kapadia, Sophomore.
With a team consisting of one senior, six juniors, two sophomores, and four freshmen, they are hoping for more successes in the future.
They had some tough losses in the tournament, but are showing promising results during their regular season. 
"I know our girls prepare hard for it and they're ready for it, I know my girls enjoy a challenge and are looking forward to that day" says Mr. Schama, head coach of the tennis team.
Emerson's girls can now continue with their season, next playing Saddle River Day. Good luck girls!