High Expectations for Boys Varsity Soccer Team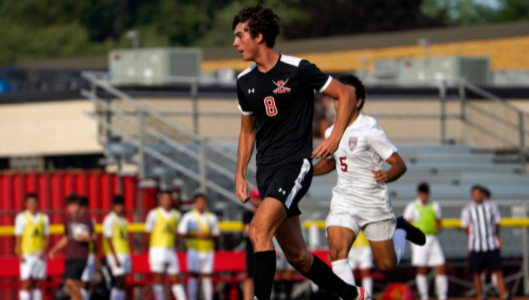 The boys soccer team, coached by 3rd year coach, Richard Compagnone, is off to their best start in years. They are undefeated through six games in September, and have beaten division contenders Cresskill and Cliffside Park, and most notably, rivals Park Ridge 5-1 on the Turf Field, at the Emerson Junior-Senior High School. 
Anthony Paino, one of the team's premier forwards, believes that this year's squad has potential to go far, especially after last year's disappointing cancellation of the state tournament for the team.  
"We are expecting to win the league and go far in states. As a team, we have high goals and high expectations", said Paino.
Paino highlighted the Cliffside Park match, a home game which ended 3-2 in advantage for the Cavos, as a kickstart to the great form that they are in. This match was a thrilling win, which needed two goals from senior Thomas Trimble, and a stellar goalkeeping performance from fellow upperclassman Alejandro Sanmartin, who had eight saves in this match, which added to his three clean sheets he had earned earlier in the season.
"Beating Cliffside Park was the best moment for all the players on the team, as they are a very competitive and exciting team." said Paino.  
Other standout players are forwards Ryan Balsam and Joseph Mancino, who have five and six goals under their name, respectively. Furthermore, versatile midfielder, Landon Frank, has five goals, including one hat trick against Hawthorne Christian, and six assists this season.  
In the back, the likes of Khalid Itani and Ben Damsky have anchored the Cavos defense to concede only four goals. 
The team credits their success in most part to the fans and how loyal they have been throughout the early parts of the season. "The support has been great, during home games there have been a lot of people there and a lot of people are rooting for us to succeed" Paino said.