Knicks: Hottest Team in New York Basketball
The New York Knicks had a nine game winning streak going , and are currently the fourth seed in the eastern conference. Their streak ended at the hands of arguably a top two team in the league with stars and veterans, the Phoenix Suns. They seemingly cannot be stopped because after their first loss in a ten game stretch they performed yesterday to beat the Bulls by nineteen points. 
They have gotten so much coverage and recognition by many companies and players. Marcus Morris, former Knicks player, had some kind words. Zion Williamson also had some nice words in a post game interview, and also Lebron James (top two of all time) said "The league is better off when the Knicks are winning" per Lebron's Twitter.
The Knicks make the second most money in the NBA standing at 421 million a year, whereas the Warriors are first at 474 million dollars and the Lakers at 400 million. The Knicks are a top franchise in the NBA, that is why the media is taking notice when we are playing well.
Not only to add the Knicks have not been this good since 2013, so loyal fans are electric at the state of the team right now. 
One factor to put in perspective is that we do not have a big market superstar on our team that is helping us win game. The Nets (also a New York team) went the route of making a super team to cheat their way into a championship by adding the likes of Kyrie Irving, Kevin Durant, James Harden, Blake Griffin, Lamarcus Aldridge, Jeff Green, and Deandre Jordan. These are a group of great players who have a combined total of 41 all-star appearances. The Knicks on the other hand, have three in total. They did not go the super star route and take load management games off like some players do. They are coached hard and have displience. That is why they remain the hottest team in New York above the Nets; not because of superstars, because they work hard for the game of basketball.
The drive means much more for the Knicks. They have something to prove; they want the fans to be proud of the team and they work for that everyday playing hard and discipline. Julius Randle being the anchor for the team has only missed one game this whole season. On the other hand, Kyrie, KD, and Harden, the Nets, "big three" have only played Seven games together the whole season.
They are a joke of a team because they work for nothing. That is why people love to see the Knicks winning and why they are the hottest team in New York right now.
About the Writer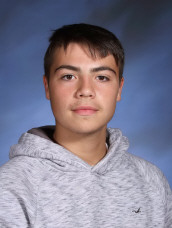 Dylan Covello
Dylan Covello is a senior at Emerson jr/sr High School and when he is not writing you may catch him on the soccer field. In Dylan's free time you may find...