What MSG is Doing for Covid Restrictions and Is it Worth Attending?
I attended the Knicks game on Thursday, March 18th, 2021, and it was totally worth, it opposed to what some people might think due to Covid restrictions. As you can see what is going on this past year with Covid, It has taking down many things that group people in large numbers. Concerts, movies and sports games were all shut down and that was a way for many people to experience fun moments.
Thankfully, things are steadily opening back up, and MSG made that move on February 23rd. There are precautions that are in place that must be followed to make sure nothing spreads, but all in all it is worth it.
One fragment being the safety aspect. MSG is not outdoors so ajustements needed to be made so that if someone did have Covid there, it would not spread. Safety points were ensuring  that mask are on at all times, besides when eating and drinking. There are security guards at each section with the job to tell people who do not have they're mask on to put it on, which is comforting.
Limited seating, to be exact 2,000 people are allowed at the games. The main capacity for MSG is 20,000 or so, many people can miss out of this experience. This is a great rule that was put in place to make sure everyone is spread out all around the arena. Seats that are not being used are locked with zip ties to ensure no one sits there and moves seats. 
Covid testing, before the game you attend you must get a PCR Covid-19 test and it must come back negative in order to attend. Before the game as well you must fill out a questionnaire and show the questionnaire and test results to the attendant up front before you are even allowed entry to the security and ticket check in.
Besides Covid restrictions, there are still other facts that are notable that make it worth it to attend these games. One of those being the view, there are no floor seats due to limited attendance so the court is exemplified so you can see everything very well. Also, fans do not need to worry about people sitting in front of you so no looking over people. The court is so spread out that there are not people to look to the side of and look over it all works out.
The only thing that was not worth it was the food . It actually tasted really good and if you have the money why not, but the food was really pricey, so I would eat before. Also they only take credit, no cash so be aware of that as well.
To sum up everything that has been said, going to the Knicks game is worth it if you are a fan. The tickets are low cost if you do some searching, the safety precautions are respectable to make sure no spread occurs and you feel safe and comfortable. Plus its a chance to see MSG in a new light as the attendance rate is down. All and All it seems like a new experience and right move to try out a Knicks game due to prices, safety, and quality.
About the Writer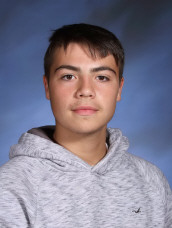 Dylan Covello,
Dylan Covello is a senior at Emerson jr/sr High School and when he is not writing you may catch him on the soccer field. In Dylan's free time you may find...