What Does the Derrick Rose Trade do for the Knicks Backcourt
The New York Knicks are having a great season so far, sitting at the 8th seed with a record of 11-15. The Knicks have traded Dennis Smith Jr and a second round pick for Derrick Rose. Per ESPN, Rose averages 14.2 points, 4.2 assists, and 2.6 rebounds with a steal along with that. Rose is a great player and this trade will make the team better on both ends, but what does this mean for the backcourt judging that we now have an overload of point guards?
Through viewing the 26 game course, new head coach Tom Tibbidoe has a strict starting five with a five man rotation (a sub for each player). 
The starting line up consists of Elfrid Payton, Rj Barrett, Reggie Bullock, Julius Randle, and Mitchel Robison. Their subs consist of Immanuel Quickley (a new star rookie), Austin Rivers, Alec Burks, Obi Toppin, and Nerlen Noels. With Derrick Rose, someone will be the odd man out. The team has been playing fairly well so will this ruin the vibe of the team?
According to ESPN,Immanuel Quickly (the 25th pick of the 2020 draft), bursted on the scene averaging 11.8 points, 2.3 assists, and 2.3 boards, while Austin Rivers is averaging 8.2 points, 2.7 assists, 2.5 boards .The knicks decided to bench Austin rivers so as of right now so Immanuel Quickley is still the leading sub with Rose.
This was a smart move by the staff and coach because Quickly is a rookie and will continue to get better. Per ESPN, Quickly is ranked fifth amongst all rookies and he is the 25th pick not even in the lottery. Quickly is quick, smart, confident, and has a solid polished floater game.
Derrick Rose plays in a way that is infectious; he attacks on both ends of the floor and is respected all around the court making him a threat. As an older guy, he will also make the younger talent better and smarter. Rose makes everyone around him better and with smart young stars like Obi and Robinson in the front court there season stats will improve from open looks.
Austin Rivers is a great player but can be inconsistent and when you have a rebuilding team you cannot have that. Rose was a smart trade based off that he is better than Rivers and not only we traded the Pistons DSJ who gets benched every game and also a second rounder  (the Knicks have ample picks). Overall, the D-Rose trade was smart and will make the team better.
About the Writer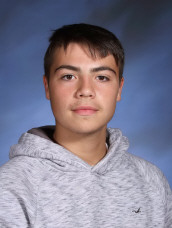 Dylan Covello,
Dylan Covello is a senior at Emerson jr/sr High School and when he is not writing you may catch him on the soccer field. In Dylan's free time you may find...