What We Know About Stranger Things Season 4
Stranger Things is one of Netflix's biggest hits, and season three did not disappoint. According to CNBC, in just the first four days of its release, the show racked up 40.7 million viewers. This is the show's most successful season, making the wait for season four that much harder. People are on their toes waiting for the next season and the odds of the show breaking its own and more records seems very high.
Let me break down what we know about season four from release date to set photos and to new characters. It appears that the release day for season Four will be August 21, 2021, so the end of summer. Set photos showcase Steve and Robin together again working as a team, and also some new characters. 
According to Popsugar, these characters appear to be Jamie Bower as Peter Ballard, known actor Eduardo Franco as Argyle and Joe Quin as Eddie Munson. It appears as if these characters will be joining the cast as regular characters for the season, making the Fourth season new and exciting.
As the viewers know, at the end of season three (spoiler warning if you have not seen it yet), Joyce and her son Will, along with Eleven have left Hawkins and with Hopper  "dead" the town of Hawkins will not be be utilized much for season Fourth . Filming usually occurs in Atlanta georgia but for season Fourth they travel just a little farther than they usually do. They are filming in Atlanta , Lieuethia, and also New Mexico.
The show takes a dive into Russia as one of the locations where Hopper is trapped, so that is why they filmed in Lithuania.
Plot wise, the only thing we know is it could involve some sort of time traveling via the season Fourth teaser. Clocks are shown in nochalanet places, leading the fans to believe time traveling will be involved. Another theory behind this is the incorporation of Back to the Future in season third; people think this is a nod to what may happen in season four.
It is clear season four of the hit show Stranger Things will be good, but all in all this article was breaking down what we know and perhaps what is to come. Netflix is doing a good job at keeping things low key but they are no match for the fans as we have found details and photos to help us as we wait.
About the Writer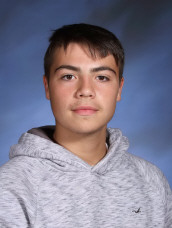 Dylan Covello,
Dylan Covello is a senior at Emerson jr/sr High School and when he is not writing you may catch him on the soccer field. In Dylan's free time you may find...