The Fifteen Best 'Inaugural Ball' Gowns Throughout American History
Joe Biden was sworn in as the nation's forty-sixth president on January 20th. Though the ceremony proceeded in a manner similar to past inaugurations, because of coronavirus concerns, the traditional "Inaugural Ball" was canceled. Since we cannot enjoy a new slew of mesmerizing garments, let's take a trip down memory lane and review the top fifteen dresses throughout American history that were worn by First Ladies during these galas:
15. Jacqueline Kennedy, 1961
This pencil dress with a chiffon overlay and jewel-encrusted top half is stunning. Though it finds itself at the bottom of this list, make no mistake, it is still one of the most radiant gowns in American History.
14. Julia Grant, 1873
For her husband's 1873 inauguration, Julia Grant donned a stunning gold floral dress with a champagne lace lining the neck-line. If the color palette was less dull, I think it would have achieved a much higher spot on this list.
13. Jill Biden, 2021
Jill Biden deserves at least an honourable mention for her inauguration outfit. Surprisingly, even though it was less formal than if she would have attended a gala (like the other first ladies), this cerulean-colored coat with a matching set of gloves and mask, beats two of the other outfits featured on this list. I am quite confident that if Biden was able to show off what she was planning for the evening ball, she would provide one of the best looks ever.
12. Claudia Johnson, 1965
"Lady Bird" selected a gorgeous yellow garment that was perfectly tailored for her inaugural ball. It included matching gloves as well as a similarly-colored overcoat. Though it was highly coordinated, it was quite simple as compared to the other dresses, which is why it received this placement.
11. Melania Trump, 2017
Melania Trump's form-fitting white gown with a small pop of red was a game-changer. Her beauty cannot be denied, even by me, someone who is not a fan of the period of time in which she and her husband were in office.
10. Pat Nixon, 1973
For Nixon's second term, Pat brandished a dress fit for a bride. It was completely decked with precious stones, and it included a luscious patch of blue tulle that cascaded down her sides. My sole critique would be that the aforementioned tulle should have been attached to the spot in which her waist was cinched, not on her hips.
9. Carolina Harrison, 1889
This gown was reminiscent of Julia Grant's, though it was slightly better. It included a semi-sheer blouse under a fitted corset, with a train that ran a few feet behind the dress's wearer. It also featured built in beaded fringe along the sleeves and neck line. Unfortunately, while the gown was fashionable at the time, it would be considered a weird piece to sport in this more modern era.
8. Ida McKinley, 1897
From a technical standpoint, McKinley's outfit was engineered in an incredible manner. The designer experimented with puffed sleeves and a fitted bottom that was heavily structured at the waist to create the illusion of an hourglass figure. Plus, the floral patterns made the garment captivating to look at.
7. Barbara Bush, 1989
Simply put, Barbara Bush's dress looked expensive. The dark blue velvet dress accessorized with an elegant pearl necklace adds a feeling of luxury. Additionally, the lighter blue satin was added as the perfect accent fabric; its diagonal placement created a sense of movement that was especially apparent as Bush danced during her Inaugural Ball.
6. Pat Nixon, 1969
Nixon is one of two First Ladies to appear twice in this ranking. During her husband's first Inauguration, Nixon wore a sophisticated yellow number with a tweed blazer decked with floral designs. Her belt and necklace both matched the jacket, therefore making the look even more attractive.
5. Mamie Eisenhower, 1957
Mamie Eisenhower's off-the-shoulder, bedazzled dress is absolutely stunning. The garment was exquisitely tailored and amazingly stoned… in fact, it appears as though it would be the ultimate wedding dress. And, the small train on the back added the perfect extra touch.
4. Michelle Obama, 2009
My favorite part of Michelle Obama's first inaugural ball look was simply how light and airy the dress was. The all white, asymmetrical gown was topped with small patches of fluff that added to its delicacy. I'm in awe every time I view a picture of this dress.
3. Mary Todd Lincoln, 1861
Mary Todd Lincoln's traditional, off-the-shoulder ball gown with a hoop skirt is beautiful. The inclusion of not only floral designs but actual flowers draped across the main bodice was immaculately executed. Plus, the floral crown that Lincoln wore really tied the outfit together.
2. Hillary Clinton, 1993
Before Clinton's politician paint-suit era, she wore very glamorous pieces. Her first inaugural gown was no exception — just like Pat Nixon's 1973 attire, Clinton wore a form-fitting bodysuit with a bout of tulle hanging from the belt. It is significantly better than Nixon's, however, since it incorporated the tulle right at the waist rather than below the hip. Not to mention, the deep mauve hue was a stunning choice for Hillary.
1. Mamie Eisenhower, 1953
It is safe to say that Mamie Eisenhower is one of the most fashionable First Ladies ever. This was very apparent in her first Inaugural Ball gown, which was a baby pink color with perfectly manicured ruffles along the bottom. This is flawless.
Overall, it is clear that our former First Ladies did not mess around when it came to their sense of fashion. These fifteen women became instant national treasures when representing the country in such an elegant way.
About the Writer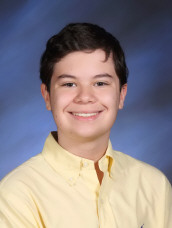 Billy Bollbach, Writer
Billy Bollbach is a tenth grader at Emerson High School who is extremely excited to begin reporting for the Cavo Chronicles. He has a multitude of interests...