A Shift in Style
In 2020, there were many new and different fashion trends that became popular to follow among the younger generations of people. 
Fashion is always changing and creating new meanings to its name as time goes on. In the last year, there were many different trends that became popular to follow. Most of these trends were a resurrection of fashion styles that were popular in past eras. 
Collins Dictionary defines trend, stating, "To set a trend means to do something that becomes accepted or fashionable, and that a lot of other people copy."
This year, one of the most popular fashion trends was mom jeans. These jeans have become one of the most common types of jeans to wear recently. Mom jeans are straight leg denim pants that have a high rise waist. They are less tight-fitting than the typical skinny jeans, and may sometimes have a more baggy fit. 
Express, a clothing store, states, "Mom jeans have a high-waist that hits above the belly button, They typically come in a lighter wash, but mom jeans are also available in black, white, and gray. They have a bit more structure than typical jeans."
Another style that became popular to follow in 2020 was layering clothing. This style ranged from layering a mock neck with a tee shirt to layering a long-sleeve with a dress. The trend started to gain its popularity on social media as people shared photos or videos of themselves wearing layered clothing. Layering clothing changed the way people styled outfits together, as people matched unlikely articles of clothing together. 
EHS senior, Katherine Haight, states her experience with this trend, "I started layering clothing because it really elevates any outfit to the next level. It is like accessorizing; your outfit is not good without it."
One of the most popular patterns worn in 2020 was tie-dye. This trend grew its attraction later in 2020; however it has grown massive popularity. Many people like this trend because of the range of fun color combinations that tie-dye bring to plain clothing. This pattern could be printed on almost all types of clothing.
Urban Outfitters lists the many articles of clothing that could have this pattern, stating, "Pair classic tie-dye socks with tie-dye shoes, or layer tie-dye patterns across garments with tie-dye dresses, tie-dye hoodies, tie-dye shirts and tie-dye sweatshirts."
2020 fashion trends have changed the way many younger people style themselves. Many of the past year's trends rose from past era fashion, as many people brought back old styles from the past.
About the Writer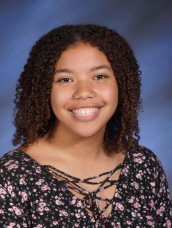 Cameryn Saunders, Writer
Cameryn Saunders, a senior at EHS, is a journalist for the Cavo Chronicles who enjoys spending time with her friends. She also plays lacrosse and participates...