Donald Trump is a Hypocrite
On January 2, 2021, Donald Trump, the President of the United States, made a phone call to the Secretary of State, Brad Raffensperger of Georgia, to overturn the results. The call was recorded and released to the public. 
Donald Trump is furious that he lost the election and he believes that Georgia is lying about their votes. The phone call between Donald Trump and Brad Raffensperger is preposterous because Donald Trump does not want to believe the facts that are provided to him. 
According to Donald Trump from The New York Times, "So dead people voted. And I think the number is close to 5,000 people." 
In the phone call, Brad Raffensperger assured the president that the statement was false because there were only two dead people that voted. The president sounds delusional because the investigation of the votes was done and the facts are out. 
Donald Trump was trying to coerce Georgia to give him votes, which makes him sound like a hypocrite because everyone accused  Biden of lying about his votes. 
According to Donald Trump from The Washington Post, "So what are we going to do here, folks? I only need 11,000 votes. Fellas, I need 11,000 votes. Give me a break."
Donald Trump wants Georgia to just give him the votes because he believes that he should be president again. Hearing the phone call makes you think that our President is delusional and a hypocrite. Georgia was giving the President facts in the phone call but the President did not want to hear it. The President just keeps repeating that he could have not lost Georgia in the votes. 
The President needs to accept his loss and stop accusing state leaders of lying about the votes. 
About the Writer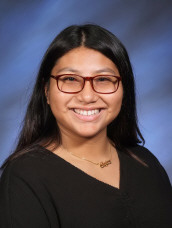 Valentina Jara, Writer
Valentina Jara is a Senior at Emerson Junior-Senior High School. She is a writer for the Cavo Chronicles. Besides going to school, she works at dunkin,...