Wakanda Forever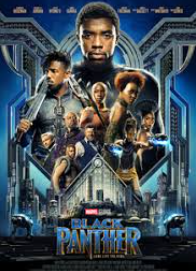 After the tragic death of his father, T'Challa, the Black Panther, returns home to Wakanda to take his place at the throne. Black Panther, now streaming on Disney Plus, is an award winning Marvel Comic action movie that is about how King T'Challa gets drawn into a conflict with old and new enemies that puts the fate of Wakanda and the entire world at risk. Airing February 2018, the film is 2 hours and 15 minutes long.  
When T'Challa comes back to Wakanda, problems quickly arise, starting with the return of Wakanda's greatest enemy, Klaw, who steals their most valuable possession: Vibranium. However this time he has a new associate, Erik Killmonger, former Navy Seal. With his training and experience, he is a difficult enemy to overcome. In a plot twist that stirs the kingdom, T'Challa must save his country and restore order. 
Taking place after Captain America: Civil War, Ryan Coogler's Black Panther puts a twist on the regular Marvel superhero movies. With its outstanding visuals, amazing soundtrack, and actors that put it all together, it isn't a movie to be missed. In one scene where T'Challa regains the power of the black panther after becoming king, he is sent to the ancestral land where he sees his father. Both dressed in all white, they talk in an African desert that illuminates purples, blues, pinks, and whites. Unlike other marvel movies, Black Panther is more than just an action film. It is all about culture and protecting the land which you come from. 
Not only is Black Panther a great superhero film, but audiences can also learn about different lifestyles and traditions. Wakanda may not be like the real country in Africa; however, it still gives a glimpse of what some African cultures can be like. The next time you're thinking of spending another evening binge watching action movies, set your channel for Disney Plus or Amazon Prime and enjoy the beautiful film. With its outstanding visuals, amazing soundtrack and actors, it is a movie not to be missed.