Lil Wayne Could Face Up to 10 Years
Dwayne Micheal Carter, Jr, also known as Lil Wayne, is a famous rapper and has been for many years. Some would say he paved the way for many new artists with his style and flow and has had a huge impact on the Rap music industry. This time around, Lil Wayne has gotten himself in a little bit of trouble in December of 2019 , with criminal possession of a firearm and ammo.
Lil Wayne has prior felony charges which does not help his case and if convicted he could face up to ten years in federal prison.
In 2007, Lil Wayne's felony history consisted of a criminal weapons possession charge, a loaded gun possession charge, and a drug charge. In 2009, he pled guilty for these charges. Then in 2010, he was put on probation for the next three years.
Now jumping forward to December 23 of 2019, per Tampa bay news Lil Wayne's jet was searched and what came about was a loaded gun with 6 rounds of ammunition. 
It is not said if he will face all ten years, but action will be taken against Lil Wayne and this will drastically change the music industry if he is . 
Kodak Black took it to Twitter and said, "I wish the best for Lil Wayne . Please don't send him to prison. He inspired me to make music." 
Per Billboard,Lil Wayne is one of the biggest artists on the planet with 120 million records sold, 15 million albums, and 37 million digital tracks in the United states. He was worked with people such as Drake, Nicki Minaj, Kendrick Lamar, Jack Harlow, Chris Brown, and many more.
Judging that he has done alot for the community and so much for the rap game that  doesn't mean he can technically get away with his charges.
Actor, actress, or music star, it does not matter. Charges are charges and technically they need to serve their time ,Is ten years really valid, That's up for the judge.
Per Rolling Stone,Lil Wayne spoke to a judge and there were reports of his speaking very respectfully about his personal history such as his high school dropout, him getting his GED, and the drugs he takes daily (for his epilepsy). 
The judge made it clear that since he is a newly convicted felon, he has more rights such as the right to vote but he is not allowed to own any guns at all and not "one single bullet" as well.
Since he already had gun charges he was not able to own any guns but claimed the firearm was from a father day gift.
Lil Wayne will face the judge again soon and it will be out right in print the full sentence he will get. He could face up to ten years in federal prison but with a trial heading of the judge will make that final decision.
About the Writer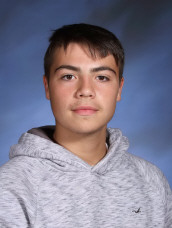 Dylan Covello,
Dylan Covello is a senior at Emerson jr/sr High School and when he is not writing you may catch him on the soccer field. In Dylan's free time you may find...