Messi Almost Left Barcelona
The soccer community is aghast from the news that was breached in mid-September, following the news that Lionel Messi was going to leave Barcelona. Fans were in shock but a few days later it was reported that he will be staying.
Messi almost left Barcelona for another team. This would have created a huge change to the soccer leagues, as his absence would have impacted Barcelona. Regarding this, he will proceed to play for Barcelona, 2020-2021. 
These accusations were reported because according to the New York times, Messi stated, "I was not happy and I wanted to leave."
This confused the viewers and thought if he left, he had to overcome obstacles due to the big change with players and teams.
Messi was going to leave, but he could not. He would need to go through court and talk with his lawyer. Since he has contracts with Barcelona, it would take legal action.
Even though Messi wanted to detach himself from the team, he cannot due to legal reasons. 
According to the New York, Messi states, "I will stay at the club so as not to get into a legal dispute." 
If Messi wants to leave, he cannot leave for free. Most likely, he will have to pay to leave the contract and the team. This causes the conflict between the club and Messi. 
Messi never intended it as a type of disrespect towards the club. He later disputes the claims of going against the club as well they must go through this payment dealership to get out of the contract. 
According to New York, Messi states, "I would never go to war against the club of my life."
This also meant the more time he spent in the club, the less enjoyable it was for him as a player. The management team is horrible from Messi's point of view as well, as he complains  to interviewers. They are abusing their power to gain more money than make the team great.
Messi states, "I have not been allowed this in any way and I will stay at the club so as not to get into a legal dispute. The management of the club led by Bartomeu is a disaster."
Stars that were lined up alongside Messi were the famous Xavi Hernández, Andrés Iniesta and Carles Puyol. Messi has slowly started to age and is expected to retire soon from his soccer career. 
The club he is currently in has committed a variety of mistakes, as well assuming has been spending more money on his talent while getting weaker as seasons come. His club is left now, counting the consequences of those errors and Messi as a star player who is held responsible for his gilded contract.
Nevertheless, it was not Messi's fault. He was told by their president that he could leave after the season was over.
Messi stated, "I thought and was sure that I was free to leave; the president always said that at the end of the season I could decide if I stayed or not. Now they cling to the fact that I did not say it before June 10, when it turns out that on June 10 we were competing for La Liga in the middle of this awful coronavirus and this disease altered all the season."
His contract is a four year term that was signed in 2017, Messi will retire from the club in 2021. Playing his final games, he will finally be able to retire his career if he chooses to. This is the reason why Messi almost left Barcelona, due to poor actions making the team great again.
About the Writer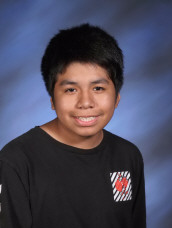 Vicente Garcia, Writer
Vicente Garcia, in the 9th grade. Who is motivated to being a journalist for The Cavo Chronicles. He is motivated to workout, be an outstanding student...