Should New Jersey Shut Down Again?
New Jersey Covid cases are rapidly increasing again, yet the state has not yet placed the necessary safety regulations. The state cases will not decrease unless the governor shuts down the state. 
According to NY Times, "At least 97 new coronavirus deaths and 3,966 new cases were reported in New Jersey on Dec. 15. Over the past week, there has been an average of 4,627 cases per day, an increase of 15 percent from the average two weeks earlier."
New Jersey was having a decline of reported Covid cases during the months of June to early October. Now it seems like New Jersey is having more Covid cases each day now. . There are a lot of people that still do not wear masks even though it is a requirement. Since people are not wearing masks the cases are going up again because they can have covid which can be detrimental to others. 
The Governor of New Jersey, Phil Murphy, has put some restrictions on the state so that the Covid cases can decrease, but it has not been that effective.  
According to North Jersey, "New Jersey will limit outdoor gatherings to no more than 25 people and postpone high school hockey and all indoor sports until January."
Phil Murphy does not seem like he is taking action with the rise of Covid cases. Since Murphy is not taking action on a state level, so then the Mayor of Newark, Ras J. Baraka, shutdown the town from November 25 to December 4. 
According to the statement of Ras J. Baraka on Abc7, "Shut it all down…And during that period, we are asking everyone to get tested. You should (go) outside only if you are getting tested, only if you need groceries, Pampers, milk, medicine, and if you are getting tested. Other than that, we have a stay-at-home advisory from Wednesday 25 to December 4. All of us, we need to do this."
If a mayor shut down the whole town because of the rise of Covid cases, then the whole state needs to shut down before it is too late. Pennsylvania and New York shut down their indoor dining, which affects New Jersey because then their residents will drive here and eat at our restaurants. Depending on where people live it is not that hard to get in New Jersey. This will definitely raise our cases and it will be harder to contact trace because they do not live in New Jersey. 
New Jersey needs to shut down again, even if Murphy does not want to. Other states in the United States have been shutting down again so the increase of  Covid cases can be controlled.
About the Writer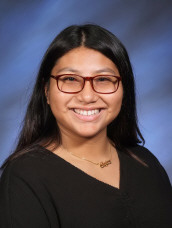 Valentina Jara, Writer
Valentina Jara is a Senior at Emerson Junior-Senior High School. She is a writer for the Cavo Chronicles. Besides going to school, she works at dunkin,...