Staying in Shape for the Spring
Many students at EHS have changed the way they exercise and prepare for possible spring sports because of the coronavirus pandemic. 
At Emerson Junior-Senior High School, many students participate in different sports to stay active during the year. However, due to the many cancellations of sports, many students are now unable to continue their typical ways of exercising. The COVID-19 pandemic has caused many limitations on how students can stay in shape during this time. As these times progress, some students have come up with creative ways on how to stay active while stuck at home.
On November 9th, 2020, Governor Phil Murphy announced, "Starting this Thursday, all interstate games and tournaments for indoor youth sports- up to and including high school- are prohibited. It is simply not safe for teams to be crossing state lines at this time to participate in indoor competitions."
Some ways students are staying active during this time is by creating or finding a workout routine that tailors to their own needs. A personalized workout allows students to both exercise at a time that fits their schedule and to work on individual goals. In addition, managing to keep a balanced diet are ways students are staying healthy during the pandemic. Making an effort to eat healthy helps maintain a student's health in addition to exercise.
Joanna Augelletta, a senior at EHS, states, "I workout every morning by doing a HITT workout and I try to eat healthy throughout the day. HITT workouts are more effective for me because they don't take very long to do and they are effective."
Even without gyms or equipment, many students are still able to stay active at home on their own time. Forms of exercises can range from walks around the neighborhood to full at home workout routines. Simple activities or exercises such as these could help a student maintain their athletic ability in time for a possible sports season in the spring.
Ava Mokrzecki, a volleyball player at Emerson, tells how she exercises on her own time, "Due to the lack of sports and physical activity, I like to stay active by walking my dog everyday and doing exercise videos on YouTube."
There are many creative ways students manage to stay active on their own. Some ways could be spending hours at a part-time job. Many high school students at EHS have jobs, and rely on their movement at work as a form of daily exercise. Completing simple tasks at a job a few times a week gives a person the dose of exercise they need to stay in shape. 
Emily Dishian, a student at EHS, states how staying active fits in her life, "I walk around at work, and that helps me get my steps in. I don't have much more time throughout the day to workout, so thankfully work gets me out of the house."
With hopes of spring sports happening later this year, many EHS students are making an extra effort in their lives into maintaining or improving their athletic ability.
About the Writer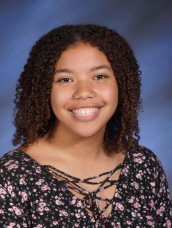 Cameryn Saunders, Writer
Cameryn Saunders, a senior at EHS, is a journalist for the Cavo Chronicles who enjoys spending time with her friends. She also plays lacrosse and participates...