How Will People Celebrate the Holidays During the Pandemic
Holidays are right around the corner. Unfortunately, there are restrictions during the holidays because there is still global pandemic. However, that will not stop people from celebrating the holidays. This leads to the question of how people will celebrate their holidays. 
Several students have stated their opinion and point of view of what to do over the holidays during quarantine. One student mentioned, "Even though quarantine and things going on at the moment around the world restricts us from going out and inviting friends over but maybe just spending the day with your family is enough."
People all over the United States have different views on spending the holidays during a deadly pandemic. Majority follows covid restrictions but on the other hand, a lot of people do not follow any of the rules to keep everyone safe. This causes spikes in covid cases and less time hanging out with friends and family.
 One anonymous student said, "Despite the covid spreading, my family and I haven't given up on making our Holidays as enjoyable as possible."
Unfortunately, some folks prefer not to celebrate the holidays this year. Due to safety hazards and Covid restrictions. People have lost interest in the holidays because they can not spend time with their family members. 
One another anonymous student said, "I won't be celebrating any holidays because I cannot spend time with my family. I feel like that is what brought us together and made the holidays fun."
As well there are other reasons why people are not celebrating this year. It has been a stressful year for many people. Students and adults are busy with academic learning, jobs etc.  
One highschool student said, "Holidays are an important time to relax and reflect on the year with your loved ones, I must admit that through the year my family and I hadn't got enough time together until we had to be in quarantine, then I truly realised what I had missed." 
Many people have chosen the right path and started to be more concerned about everyone's safety instead of hosting parties which could lead to Covid-19 cases. . Sadly, they had to sacrifice their fun for others' safety.
However that is always not the case, some people would rather care about how much fun and people they could invite to party for the holidays than sit around and have a few guests.
One person said, "I'm going to invite a couple of my friends and family. I want to have fun during this pandemic, it's been so boring lately that I need some fun."
According to students, ideas and point of views of what they have planned for the holidays, even though things have been held back for millions of families across the globe who enjoy celebrating holidays just as much as the next family does. Activities have been planned for this year's holiday at home so everyone can enjoy the holidays safely at home with their loved ones.
About the Writer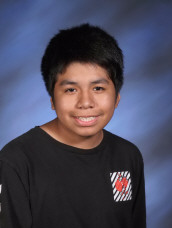 Vicente Garcia, Writer
Vicente Garcia, in the 9th grade. Who is motivated to being a journalist for The Cavo Chronicles. He is motivated to workout, be an outstanding student...