Top 10 Best Christmas Movies
Christmas is finally coming! I've reviewed the best 10 movies to watch with your friends or family this Christmas season. The first movie is ..
Elf
Elf is about an elf named Buddy. He was accidentally transported to the North Pole as a toddler and raised to adulthood among Santa's elves. Buddy begins to realize he does not fit in, so the adult Buddy travels to New York, in full elf uniform, in search of his real father. In my opinion, this movie is the best Christmas movie. It is very kid friendly and will also entertain adults. I have personally watched this movie so much I can quote what Buddy says. Will Ferell plays the role of Buddy and he is just hilarious. Definitely watch it. 10/10
A Night Before Christmas
The film follows the adventures of Jack Skellington, Halloweentown's pumpkin king, who is bored with the same routine of frightening people. Jack accidentally discovers Christmastown. He sees bright colors and warm spirits. He then plots to bring Christmas under his control by kidnapping Santa Claus and taking over the role. I highly recommend watching this movie. Very kid friendly and comes with a lot of great songs. It is also a Halloween and Christmovie movie in one and I love it. 10/10
The Grinch : Animated Version
The movie is basically the same from the original movie, but is lowkey SO MUCH BETTER.  The characters look so much cuter and they really made it more interesting. I even got my college friends to watch this movie and they loved it. I suggest you actually watch this movie right now. 10/10
Diehard
This film is about a policeman ,John McClane, who goes to visit his wife and two daughters on Christmas Eve. He joins them at a holiday party in the headquarters of the Japanese owned business she works for. However the party is interrupted by a group of terrorists who take over the building. This movie was so good because it was just so intense. I just kept watching because I wanted to know what happened next. This movie is good for adults and watching with a group of friends . 8/10
Frosty The Snowman
Frosty the Snowman is about a snowman, Frosty, who sings and is loved by children. Warm weather comes near and the children figure out how to help Frosty not melt. This movie is pretty old but I absolutely recommend it. This movie is great for kids and comes with great songs that you might already know. 8/10
The Polar Express
This film is about a young boy who takes a train ride to the North Pole ; he experiences a journey with several other kids. He then arrives at the North Pole to meet Santa Claus. This movie is honestly one of the best Christmas movies ever. I just remember when I was younger I loved watching this on Christmas eve. Definitely watch with your kids or younger relatives. 8/10
Bad Mom Christmas 
Overworked moms Amy, Kiki, and Carla face the challenges and expectations to have the best Christmas for their family. Creating the perfect holiday for their families is already hard enough, now they will have to do it while dealing with their mothers when they come to visit. This Movie was very funny and entertaining . A lot of moms can relate to the challenges the moms go through to make christmas amazing. NOT CHILD FRIENDLY. This movie is great to watch with your friends to have a good laugh.  7/10
A Christmas Carol
This film is about Ebenezer Scrooge who hates Christmas.Scrooge encounters the ghost of his late business partner, who warns that three spirits will visit him. The ghosts take Scrooge on a journey through his past, present, and future in the hopes of transforming his bitterness. This movie is very kid friendly and entertaining to watch. Watching what Scrooge goes through to become nice is interesting. Definitely would recommend this movie to watch with your kids. 6/10
Grinch
 In the film, "Grinch" the grinch decides to ruin Christmas for the cheery citizens of Whoville. The Grinch comes down from his mountaintop home and sneaks into town to swipe everything holiday related from the Whos. This movie is a classic and probably has already been seen by most people. If you have not seen it, it is a very funny kid friendly movie. Jim Carey plays the role of the grinch which just makes all the impersonations much funnier.  6/10
Home Alone
Home Alone is about a young boy, Kevin McCallister. He acts out the night before a family trip to Paris, so mother makes him sleep in the attic. After his parents mistakenly leave for the airport without Kevin, he wakes up to an empty house and assumes his wish to have no family has come true. But his excitement ends when he realizes that two con men plan to rob his house. Home Alone are classics and have about 5 other movies to watch from. Not my favorite movie but I know children would probably like it. 5/10
That is it for the 10 best Christmas movies to watch during this Christmas season. I hope you guys enjoyed and went to watch some of my favorite movies.
About the Writer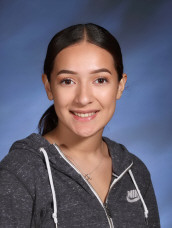 Adrienne Sabatier, Writer
Adrienne Sabatier, a 17 year old who is attending EHS as a senior. During her free time she enjoys art and watching youtube or if feeling like bothering...