How Corona Is Causing Issues For Seniors In High School with Goals To Be Recruited For Sports
The pandemic our world is facing is leaving young high school athletes who want the chance to be recruited with few opportunities to be recognized.
In an interview with The New York Times, "The story here is how hard this is going to impact high school juniors," said Dennis Bohn, the men's soccer coach at Lafayette College in Easton, Pennsylvania. "There are kids that are going to miss getting scholarships or lose financial aid and roster spots. Some people are going to lose the opportunity to go to school altogether."
Many kids rely on the chance of getting a scholarship or getting noticed at one of their games and being seen by a top coach or college to continue their education and career, and with such limitations on sports and capacity, it is very hard to ensure that all student-athletes have this opportunity.. 
Because of these limitations, students are being given the option of an extra year of eligibility for colleges. However this could be problematic because coaches do not need more players because they still have a full roster and they do not need more future athletes because of this.
ESPN says, "It all works its way out. We had to look at what was in front of us today, and that's taking care of the athletes on our rosters right now." 
The athletes at college now are the main focus but in the end it is really hurting the high school athletes hoping to continue their career at a collegiate level.
A student-athlete from Bergen Catholic High School personally experiencing this stated,, "Covid has caused me to miss out on many showcases, games, and additional outside of high school practices that I have not been able to attend and has caused my recruitment process to be pushed back much further than usual. It has been very difficult to find schools to play at as seniors who were supposed to be graduating are now also staying for an extra year of eligibility causing high school seniors to not be able to join many schools as many of their players will be staying back an extra year." 
Coming from an athlete himself at a prestigious high school, he had the chance to do a lot with his soccer career but this is causing him to put it on hold and he is hitting a few bumps in the road, along with several other high school athletes. 
Although technology and the different ways athletes can communicate with coaches is progressing, it is still a complete loss for the athletes who lost an entire spring and partially a summer to be scouted and recruited. The importance of coaches being able to see the athletes in person is imperative in order to evaluate an athlete's pregame mentality, attitude during the game/ on and off the court, and the way they handle situations with their teammates and coaches during the game plays a big part in recruitment as well. 
Some athletes were able to get ahead of the game and begin their process when they were younger by going to camps, tournaments, and in person visits, but for a lot of athletes they were not doing that and are now not able to do that making it harder for not only themselves but for the coaches as well. 
The pandemic is causing a tremendous amount of issues for people all over the world and has affected athletes from all sports and all over the world and it will affect their future as well. 
About the Writer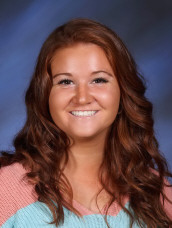 Shaye Diverio, Writer
Shaye Diverio is a senior at Emerson Junior/Senior High school. In her free time you can catch her having a great time with her friends and family, playing...