How Martial Arts Schools are Dealing With Covid-19
Martial Arts School's have been changing the way they teach due to Covid and have set new rules based on the CDC guidelines. Martial arts is extremely hands-on. With Covid-19, Martial Arts Schools had to change their way of teaching. 
According to Taekwondo Times, "Many Martial Arts schools around the world have done their best to continue to support their communities and students during this time through Zoom Classroom, Facebook Live, YouTube, and many other video streaming mediums."
The Martial Arts Schools had to adapt to the new circumstances of Covid. Teaching techniques during Zoom was difficult because students had no bags to practice on or other students to spare with. To spare someone means that students practice real boxing moves on each other. 
Martial Arts Schools had to rethink the approach on how classes are being taught so the schools can open and keep everyone safe. When the schools started to open up again classes were very different because there was no more sparring -just punching the bag.
According to Tiger Schulmann's Schools, "New, non-contact Kickboxing and Jiu-Jitsu classes." 
Once students are done taking their classes, everything is cleaned and disinfected to protect everyone because when students are on their bag, they are sweating and the sweat is going onto the surfaces. 
According to Tiger Schulmann's reopening protocol, "Mat areas will be sectioned off to provide adequate space for each member."
Tiger Schulman is one of the martial arts schools that have done a proper job of keeping everyone safe. Even the class sizes are smaller and everyone is socially distant. Martial arts is a sport that had to change a lot due to Covid. 
Martial arts schools have adapted tremendously and they are doing well. Hopefully, things get better so people can spare again.
About the Writer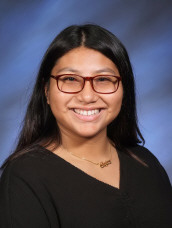 Valentina Jara, Writer
Valentina Jara is a Senior at Emerson Junior-Senior High School. She is a writer for the Cavo Chronicles. Besides going to school, she works at dunkin,...