A Season to Remember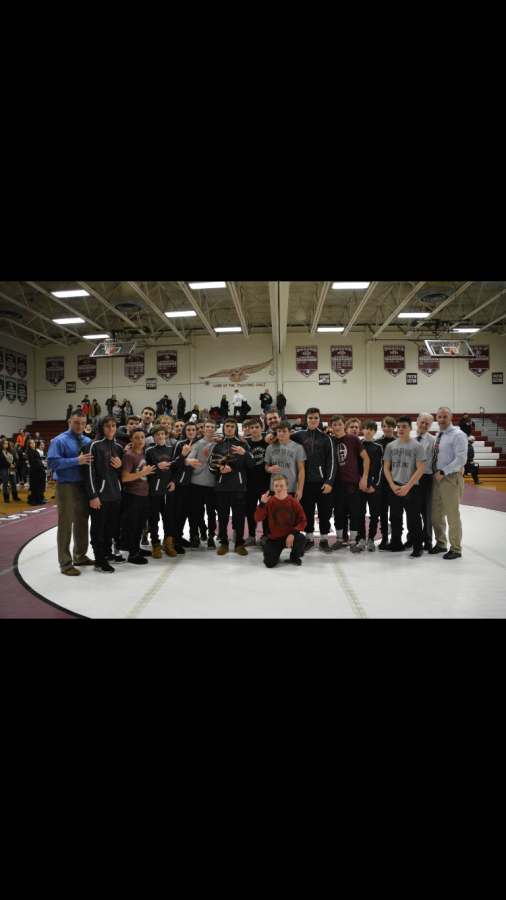 As a kid, I looked up to all the wrestlers on the Emerson Park Ridge Wrestling Team and I really wanted to be them. I always wanted to run out to "Born to Be Wild" and wrestle under Coach Woods and my father. And now… I am that little kid who has accomplished that: wrestling for those coaches and being that EPR wrestler I have always dreamed of being. 
I started wrestling at the age of four and fell in love with it the moment I stepped on the mat. Eventually I got old enough and I joined the rec wrestling program at the age of 6 and wrestled in it up until 8th grade. Throughout my time wrestling there, my dad was my coach; he taught me everything I needed to know in this sport. I learned every move, I got physically strong by lifting weights, and I learned the mental strength that is required of a successful wrestler.
I put a lot of hours into this sport and a lot of blood, sweat, and tears, too. I have had to sacrifice a lot as well. The several days without eating, the extra workouts, not being able to hang with friends, etc. A lot goes into being a good wrestler. That's why this sport is not for everybody; you have to sacrifice a lot. 
It's crazy to think about how I was once that little kid watching these matches, and looking up to all the EPR wrestlers as if they were superheroes and now these little kids look at me as if I am this superhero. I'd like to thank all my coaches that I have had over the years: Coach Woods, my father, Coach Rick, Coach Giraldo, Coach Max, and plenty more. It is honestly a dream come true for me to have wrestled for this team because there is no other team in the world that I would want to wrestle for, my hometown team with the people I grew up with. 
 Although my high school career as an EPR wrestler is over, we have had many accomplishments that we can look back upon in the years to come. We were 4x league champs, 4x conference champs, 2x district champs, and 2x state sectional champions. It takes some high school years to just win one of those and we have accomplished plenty in just my four years on the team. Also, throughout my entire career on the EPR team, my four teams had a combined record of 82-22 which is an amazing record. 
This is truly a season to remember but my journey has not come to an end yet. I still have the individual part of the season to go and to accomplish my goal of being a state champion. After that part of the season, I will be continuing my wrestling career in the Division 1 level at Clarion University. 
Thank you to everyone who has supported me throughout my high school career. I hope I made you guys proud, because I truly gave it everything I got.
About the Writer
Logan Mazzeo, Writer
Logan Mazzeo is a senior at Emerson Junior Senior High School. He is a journalist who writes about sports and activities. In his free time, you can find...