From a Disaster to a Miracle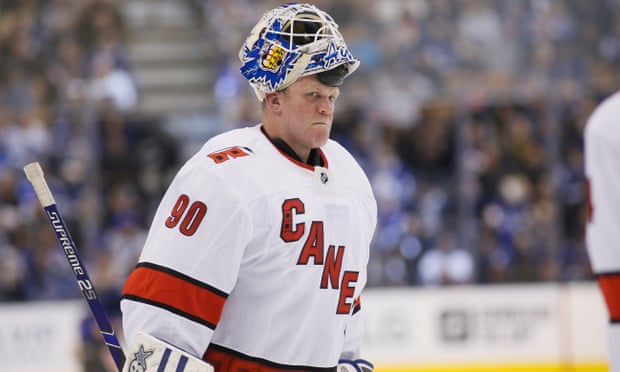 From a zamboni driver to the biggest star of a game and the talk of the NHL in just minutes, David Ayres made history Saturday night in the Carolina Hurricanes' victory over the Toronto Maple Leafs. 
42-year-old David Ayres skated to the rescue after both of Carolina's goalies, Petr Mrazek and James Reimer, were injured. James Reimer was the starting goalie for the game, then sustained a lower body injury after colliding with teammate Jaccob Slavin during the first period. He was quickly replaced by Petr Mrazek.
Halfway into the second period, Toronto's Kyle Clifford collided into Mrazek while trying to play a loose puck near the face off dot. The Hurricanes were left with no goalies at this point. The game took a brief pause for a few minutes while everyone figured out what to do. Ayres was then prompted to play against his own team. He is a part of the Toronto Maple Leaf's Organization.
When Ayres stepped in, the Hurricanes were up 3-1. Sebastian Aho scored and it quickly became 4-1. Ayres had a bit of a shaky period, letting in two goals and making the game 4-3. Carolina Hurricanes head coach Rod Brind'Amour looked very disappointed from the bench. Little did he know what the rest of the game would entail. 
According to NBC news, during a second intermission interview, Ayres said, "I was nervous for the whole second period, as you can tell I couldn't stop a puck if I had to in the second. But I told the boys, 'When I come out in the third I'll be ready to go.'" He undoubtedly stuck to his word. Regardless of his performance at first, his new and temporary teammates encouraged him and just told him to have fun. 
The third period came around and every person in the arena and watching from home were in utter shock. Ayres blocked every shot that came at him and the Hurricanes kept scoring. Warren Foegle and Martin Necas put the puck to the net, ending the game with a 6-3 lead. 
David Ayres received an abundance of praise after the game whether it was during interviews or from teammates, coaches, and staff. He was announced as the first star of the game and received a standing ovation from the thousands of fans in Scotiabank Arena. 
The days following his NHL debut were crazy. According to @CanesPR on Twitter, some of his interviews on Sunday included ESPN radio, CBS, NHL on NBC live, TSN, Globe and Mail, and Wall Street Journal. Monday was even more crazy with eleven interviews, both on TV and the radio. 
On Tuesday, February 25, Raleigh, home of the Carolina Hurricanes, honored Ayres by naming the day "David Ayres Day." He was the siren sounder for the Hurricanes home game on David Ayres Day against the Dallas Stars. 
The rarity of this situation gave Ayres that much more fame. The Carolina Hurricanes had a similar situation in 2016, when equipment manager Jorge Alves went in and played for the last 7.6 seconds. According to Business Insider, Alves was the first ever emergency goalie to play in an NHL game. 
David Ayres has always loved hockey and wanted to pursue it, but his kidney transplant 15 years ago quickly crushed that dream. He never thought he was going to play hockey again, but he ended up slowly easing back into it. Little did he know he would end up being able to say he played in the NHL and made history when he did it as the first emergency goalie to win a game. 
About the Writer
Maddie Meltzer, Writer
Maddie Meltzer, a senior at Emerson Junior Senior High School, is excited to be a writer for this year's Cavo Chronicles newspaper. She enjoys writing...