#MambaOut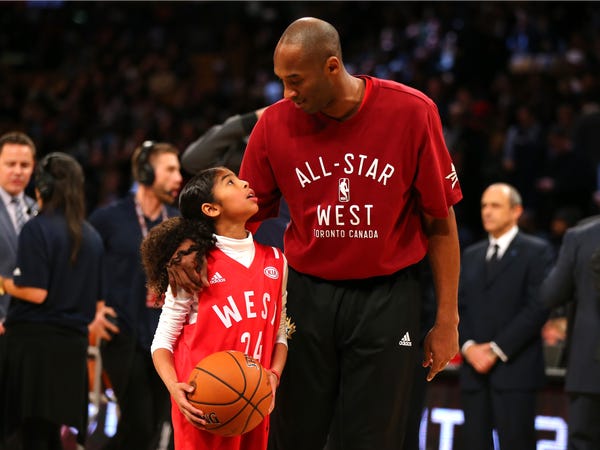 On January 25th, 2020, the world lost a global icon when Kobe Bryant passed away in a helicopter crash. The Los Angeles Lakers legend lost his life along with his 13 year old daughter Gianna and seven other passengers. According to The New York Times, the helicopter was flying through thick fog and clouds near a hill in Calabasas, California, while they were on their way to a basketball game.
When the news broke about his passing, massive amounts of Kobe Bryant fans gathered outside of Staples Center to show their sympathy to their fallen icon. Flowers, basketballs, candles, jerseys and much more memorabilia was left outside of the stadium that Kobe Bryant built with his legacy. Students everywhere made viral videos of them shooting paper balls into trash cans and yelling "Kobe!" to simulate his iconic jumpshot.
Kobe had one of the biggest impacts on the game of basketball throughout his career and has a resume that most players could only dream of achieving. Coming out of high school, no one expected much from an 18 year old but he proved everyone wrong. The accolades he reached in his 20 year career consisted of five NBA championships (which he was in the finals and the MVP in two of them,) fifteen All-NBA teams, twelve All-Defensive teams, eighteen time all star, two time scoring champion, and most importantly, he won Most Valuable Player in 2008.
The NBA world was stunned when the news broke about Kobe Bryant and his daughter passing. Kobe left a mark on many of the young players in the league that grew up watching him and the ones that he mentored. Many players took to social media to pay their respect to their idol, such as Lebron James who said, "My heart goes to Vanessa and the kids. I promise you I'll continue your legacy man!" Teams around the league also showed their respect by having tribute and memorial videos before their games and even received 24 and 8 second violations at the beginning of each game. The Dallas Mavericks retired the number 24 to honor the fallen legend.
However, Kobe's legacy was much more than basketball. He was also known as a great father to his daughters and he always put them before anything. In countless interviews, he always bragged about his daughters which made it evident that he did not care about not having a son. An example of this is when he was on Jimmy Kimmel Live and stated, "The best thing that happens is when we go out and fans will come up to me and she'll be standing next to me and they'll be like, 'you got to have a boy someone to carry on the tradition'. She's like, 'I got this'." Fathers with daughters all over the world went to social media and posted pictures of their daughters with the #GirlDad which trended and showed people Bryant's legacy was much more than basketball.
Kobe and the other eight passengers will be remembered in the hearts of adoring fans forever and his legacy will live on. It is still hard to fathom that he is gone, but the best thing to do is honor him and show respect to the families who lost loved ones in the tragic event.
About the Writer
Nick LaForge, Writer
Nick LaForge is a senior at Emerson High School. He likes writing articles about sports and what is going on in the school. In his free time, he enjoys...