One of the Craziest Winters Ever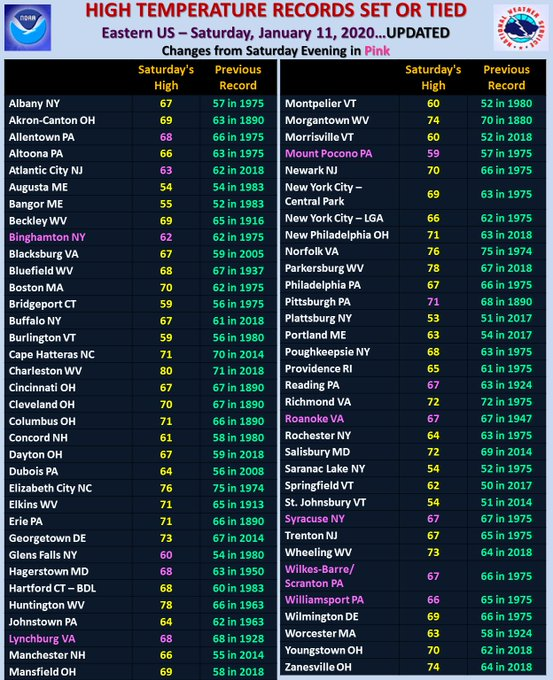 The weather this winter in New Jersey is the craziest of all time, with temperatures ranging from below 20 to above 60 degrees fahrenheit, all in one month.
A typical winter in New Jersey has moderately cold weather that can range from 28-38 degrees fahrenheit, but this winter has been very strange. New Jersey winters should also have good snow amounts throughout the winter, bringing temperatures down with little amounts of rain. This winter has been different so far because temperatures have gotten lower than 20 degrees with wind chills, while this past weekend, January 11-12 temperatures reached an all time high of 65 degrees.
According to the New Jersey's weather report, "We're in the dead of winter, but this weekend felt like the middle of spring in New Jersey with record-breaking warm temperatures. Don't get too used it, though, the cold weather is coming back with a vengeance."
These were the two hottest days recorded in New Jersey history, as some towns even hit 70 degrees. After this weekend, temperatures will dramatically drop to the 30 or even 20 degrees fahrenheit. This shows how unpredictable the 2019-2020 winter can be with temperatures dramatically changing so fast, with more snow and rain to come.
Also according to the New Jersey's weather report, temperatures can now go into the 30's and have possible snowfall in the upcoming days. For instance, "…next weekend's forecast calls for a major plunge in temperatures and even some snow. Temperatures are expected to be in the 30s on Friday, and Friday night into Saturday morning could see snowfall in the state."
Those temperatures do not even make this winter one of the strangest ones yet. This is because we have had more days of rain than snow. It has snowed just a few inches this winter with probably more days of snow to come, but so far there has been over ten days of rain this winter.
The average temperature this winter is in the upper 30's. It has been 30 degrees plus most days, with nighttime lows being in the twenties. This is a strange average temperature for New Jersey because usually it will be in the low 30's as an average but now it is close to 40 as an average temperature.
This is a very unique winter with many more days still left in it. Predictions show that there are still a few more days of snow and a lot more days of rain to come. This is all due to global warming, making the weather forecast change from cold to hot and hot to cold. Winter officially ends March 19th and will change over to spring. The spring predictions have very high temperatures with no snow but lots of rain.
Overall, this winter has been crazy and is on record to be one of the hottest ones yet in New Jersey history.
About the Writer
Logan Mazzeo, Writer
Logan Mazzeo is a senior at Emerson Junior Senior High School. He is a journalist who writes about sports and activities. In his free time, you can find...